Top posting users this week
2>
Rating
Language 2: Swearing is generally permitted. However, the language cannot be used to severely abuse.
Sexual Content 2: Sexual content is permitted. References and writing about genitalia and sex acts are permitted, but explicit detail is not. Fade to black, or use the dotdotdot rule. (Let's keep it PG-13.)
Violence 2: Graphic violence is permitted. Explicit description or in-game narration violence is allowed.

Despite these ratings, keep in mind that there is a limit, and you should not cross it just to garner attention. Also, resorting to curse words is also like adding senseless fluff to your posts.
License
Some rights reserved. This forum, and all of it's content, is licensed under a Creative Commons Attribution-NonCommercial-NoDerivs 3.0 Unported License
Disclaimer
Superhero RPG does not own any content written or distributed by Marvel or DC Comics. All of the content referencing to Marvel or DC belongs to its rightful owners. Superhero RPG does not claim rights to any materials used such as Comic Book, Movie, or Video game character images.
Superhero RPG does retain the rights to any and all posts made by the original authors that are a part of SuperheroRPG.

Copyright © 2008-2021 by Chellizard, Spirit Corgi, and Pain. All rights reserved. No part of this website may be reproduced or transmitted in any form without the written permission of the author or the Site Owners.
Donate to SHRP!
Superhero RPG will be able to keep our custom domain, copyrights to your works, and an ever growing appearance that will change over time! 100% of your donations will go to Superhero RPG and nothing else.
Page 5 of 5 •
1, 2, 3, 4, 5
Zell wasn't entirely sure what exactly he was supposed to be doing, he just sopped and looked to Sean with a knowing smirk. "You have no idea what you're doing do you?" He asked as he crossed his arms, having set his cue aside to the wall. Zell smirked and shook his head. "It's okay, I don't either. I mean, are we supposed to just knock all the balls into the holes or are we like...supposed to pick which one we are?" Zell smiled as he shook his head laughing. It seemed trivial and most people would probably think Zell was retarded for it but...it was moments like this that made his marriage legitimately worth it to him. Simple, stupid moments where neither of them had any clue what the fuck they were doing, but somehow managing to make it work. That described their relationship entirely mind you. Zell walked over and wrapped Sean into a hug as he noticed Silus and Jordan talking while Yancey returned with Shael. Yancey had a dopey smile on his face like always, Silus was smiling with Jordan and Shael was apparently under some form of mental curiosity. Everything was as it should be. This is what he fought for right? It was how it was supposed to be...

   "I uh...not sure. You wanna help me take some things down? Wanna try your hand at the guitar?" Silus asked, partially as a joke as he extended the guitar out to offer his "brother" a chance at the instrument. Meanwhile Yancey was in the kitchen as he looked to Shael with a smirk, amused at the situation. Yancey saw it as a way to tease his friend if nothing else. "Doing stuff? I'd ask what kind of stuff but from how you smell it sounds kinda bad." Yancey said as he sighed and shrugged. "The best catches keep you chasing." He chuckled as he turned away and started back towards the living room. "Come hang with us for a little bit, if you don't chill down ya might hurt your hand." Yancey remarked as he turned into the living room.

Silus

Mega Poster!





Number of posts

: 934


Registration date

: 2013-11-05



"Nope, I have no idea at all." Sean admitted with a grin, chuckling as he considered the fact that maybe Zell also had no idea what he was doing, which would have been a rather novel thought. This consideration was made fact when Zell said something about not knowing much about the game either, which made two of them, and amused Sean to some extent. So it seemed that they were both stuck in the whole not knowing anything about this game department, which was alright with him. 'I just thought we knocked all of the balls into the....hole things, but thats about it really." He shrugged, placing his pool cue down, much like Zell did as it seemed like neither of them had any idea what they were doing. Returning the whole hug thing, Sean sighed.

"So how bout we ditch the game and do something that we both know more about, like....I dunno drinking or something?" Sean suggested with a smirk, placing an arm over his shoulder and kissing him. "Sounds fun, right?" Honestly Sean was in a mostly good mood, perhaps it was just the part atmosphere or something like that, but it was something to be sure. Jordan was enjoying himself too, to an extent anyway.

"Yeah, I would love to help." Jordan said with a nod, then finding himself presented with the guitar, Silus asking if he wanted to try his hand at it, and that made the male remember that...he did have some knowledge in how to work one of these. Still, taking it, he would examine the instrument, hold it properly experimentally strumming the strings in the hopes of making noise. The sound itself was pleasant, and with a few seconds he found himself just strumming along the instrument, letting the pleasant reverberate through the air for a moment, before stopping himself. "I...yeah, yere ya go." He said offering the instrument back to Silus with a small smile. "Sooo, I was supposed to be helpin you?"

'Nope, it was pretty good." Shael chuckled with a wink, moving back into prime form, rolling his shoulders and perhaps just altering his little hunting strategy ever so slightly. Still, he would follow behind Yancey, taking notice of what the male and letting it process through his semi-flirtacious mind for a moment before something came up. "Yeah, might not hurt my hand if a brotha would offer a helping hand." Shael noted with a click of his tongue, patting Yancey on the shoulder before walking ahead of him.

The Bolt

Mega Poster!





Status

:


Quote

: "Insert Quote from Character Here" or etc.



Warnings

:


Number of posts

: 1261


Age

: 24


Humor

: [19:51:49] Samify : Sean gave and I recieved many things


Registration date

: 2011-04-26



Zell wouldn't argue, though he wasn't entirely sure how the comment about them being good at drinking. He was sure Sean didn't mean anything by it so he let him go, not really saying or letting any signs betray the grand idea that his...betrothed thingy. He just agreed and off they went to do what it was they did best, or whatever the effect was to that. Though Zell still found it humorous that he hadn't seen hide nor hair of the potato, whom was now safely back at the temple that he called his home.

Yancey and Jordan had their bonding moment apparently. Silus began taking things down and Jordan would hopefully fall in. Silus agreed to let Jordan help put things away. Staring at the drums, then to the guitars and then finally they could enjoy themselves at the party. Silus had a little time to mingle around, talking with Jordan about trying to find Deluge, the new group of kids he was hanging out with and their angelic names and things of that nature. Potential friends and old acquaintances that he got to learn under a new name and guise, and a chance to spend time with Jordan was a good evening in his book.

Yancey snagged Shael's shirt and shot forward nipping his ear lobe playfully like when they were dogs. Before slipping back between a few people and picking up into a conversation, eventually and skillfully making his way back to Silus like all lost puppies did, and when he reached there he was likely to find more friends, more Shael and Jordan, maybe more Fera even. But the night was a success for the most part.
____________________________________________________________________________________________________________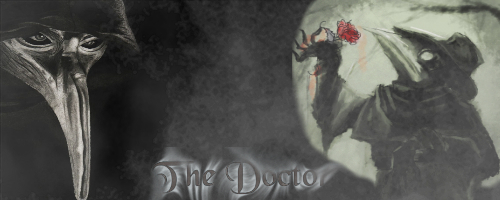 The Doctor

A Drunk Homosexual




Status

:


Warnings

:


Number of posts

: 162


Job

: I'm a Doctor


Humor

: "People remember me for being the creature with the child armor...I regret nothing."


Registration date

: 2014-07-09



Page 5 of 5 •
1, 2, 3, 4, 5
---
Permissions in this forum:
You
cannot
reply to topics in this forum