Top posting users this week
2>
Rating
Language 2: Swearing is generally permitted. However, the language cannot be used to severely abuse.
Sexual Content 2: Sexual content is permitted. References and writing about genitalia and sex acts are permitted, but explicit detail is not. Fade to black, or use the dotdotdot rule. (Let's keep it PG-13.)
Violence 2: Graphic violence is permitted. Explicit description or in-game narration violence is allowed.

Despite these ratings, keep in mind that there is a limit, and you should not cross it just to garner attention. Also, resorting to curse words is also like adding senseless fluff to your posts.
License
Some rights reserved. This forum, and all of it's content, is licensed under a Creative Commons Attribution-NonCommercial-NoDerivs 3.0 Unported License
Disclaimer
Superhero RPG does not own any content written or distributed by Marvel or DC Comics. All of the content referencing to Marvel or DC belongs to its rightful owners. Superhero RPG does not claim rights to any materials used such as Comic Book, Movie, or Video game character images.
Superhero RPG does retain the rights to any and all posts made by the original authors that are a part of SuperheroRPG.

Copyright © 2008-2021 by Chellizard, Spirit Corgi, and Pain. All rights reserved. No part of this website may be reproduced or transmitted in any form without the written permission of the author or the Site Owners.
Donate to SHRP!
Superhero RPG will be able to keep our custom domain, copyrights to your works, and an ever growing appearance that will change over time! 100% of your donations will go to Superhero RPG and nothing else.
Every second on the clock, every tick and every tock yet passing by without a sound. Ripples echoing throughout the fabric of time, day in and day out the world continued to turn. Every action causing an effect, far reaching and unfathomable in consequence. Every inaction had just as many consequences. After all, to not decide...is to decide. But every so often one has to ponder their place within the painting palate of time. Will their colors and radiance shine through and etch them eternally upon the tapestry of time? Will they be forgotten? Do their actions, their choices even truly have any weight? These were the musings and questions of a young man not all that long ago, yet somehow very distantly into the future.

   The soothing rain tapped down against the pavement, helping hundreds of people sleep in the city tonight as they listened to the sound of the soft rapping and tapping on their windows and ceilings. The streets were still so alive, despite it being the dead of night. Lights were on everywhere, beauty reflected upon the continually disrupted surfaces of the puddles of water forming in the roads. The humidity and moisture saturated the air, the very smell of the area altered ever so slightly by the presence of precipitation.  

     Tonight, Chicago found itself at the center of a very strange string of events. All over the city, there had been power outages, randomized appearances of a "blue ball of energy" appearing, breaking all the lights and frying every electronic before disappearing, this happening in more than one place throughout the city, all at the exact same time. Then randomly in different parts, finally there was one last appearance in a dark alley. The beautiful, brilliant blues of the electricity bouncing snaked and shot out around the damp alley, illuminating the area and driving back darkness for only a moment before vanishing, sparks dancing about, leaving a small crater in the alley, large metallic trash cans turned over and trash littered everywhere.

    The freakish event had been chalked up to nothing other than a storm, but many found the story to be a little less than believable, no matter how many "specialists" or "contributors" you brought into the station to try and play it off. Storms didn't just randomly cause lightning in the dead center of buildings. Whatever this was, it was not what many would have considered natural. But who was going to do something about it? Who was going to get to the bottom of this strange storm-like event and the anomaly that was causing it?

Kid Kronos




Status

:


Quote

: "Even criminals should have class."



Warnings

:


Number of posts

: 25


Registration date

: 2015-12-24



Even though this blue ball of energy wasn't really crime Vincent still took an interest in it.  The past few days he had spent a lot of time in Chicago fighting crime, and in his mind this seemed like it could become pretty bad if it was left unchecked.  The day after he sat down at his computer and tried to gather what little information was posted about it online.  After a few minutes of some shitty googling he found out that it: could cause lightning, cause power outages, knock down trash cans, is blue, made light, didn't pick up it's litter appeared to have the ability to show up in multiple places at the same time, and made craters.  "Well not exactly a lot of helpful information, but I guess it's better than nothing I guess?"  Sure know he knew how to identify the blue ball of energy, but he still had no clue as to what this thing was or why it was here.  "Whatever," he thought to himself.  "Now I just need to figure out how to find this thing."  Vincent had two plans in mind for catching this thing.  One of the plans involved hovering above the city and waiting for the ball of energy to show itself.  The other plan involved walking around the city and hoping to get lucky and stumble upon the thing.  With plan one the energy would be easier to find, but harder to get to.  The other plan had the opposite problem, with the energy being hard to find, but easier to reach.  Eventually he just decided to call the one friend who knew about what he was doing for some advice.  He dialed his number and waited for him to pick up.

"Hey Vincent what do you want?"  his friend asked him.

"Uh... hey Steven I need some advice," he said as he got up and began to walk around his room.

"With what?"

"Well I'm going after that blue thing in Chicago and I need some advice."

"Why the fuck are you asking me for help with this shit?  I wouldn't know how to catch whatever you're looking for."  His friend told him bluntly.

"No you retard I just need you to pick a plan.  I don't need you to come up with anything."

"Okay?"

"So basically the first plan I float above the city and wait for some blue light to appear.  The issue with that though is that when the light does actually show up it might be hard for me to get to it in time."

"That seems decent.  What's your other idea?"

"The other idea I had is that I would walk around the city at night and hope I stumble upon the blue ball of energy.  So which one is better?"  Vincent sat on the phone waiting for an answer.  All he got was silence.  "Hello?  Steven are you still there?"

"Yeah I'm still there."

"Okay can you just tell me which one I should go with."

"Your first plan is alright and your second one is fucking stupid."

"So what you're telling me is to go with the first one?"

"Yeah."

"Alright see you later."

"Bye."

As Steven hung up the phone Vincent grabbed his ski mask and began the flight to Chicago.

---

A few hours later.

Vincent floated above the city bored as hell.  He underestimated how boring floating around and waiting for some flashing lights to appear would be.  "Damn it," he thought to himself.  "I should've brought, like, my DS or something.  Waiting around is boring as hell."

Guest

Guest





The starry tapestry of the city was torn in places, holes where neither light nor power could reach. Dark places, as her aunt called them. Places where dark creatures dwelled and creatures forgotten by the modern world build their nests. This, too, is where the Silver Hand dwell, the only light in lands devoid of hope. With blades glistening and hands glowing with magic and power, they push back the darkness through whatever means necessary, fighting both evil and good, a constant presence in the balance of the world. A buffer between the extremes of good and evil.

Or at least, that's the lore Katrina was taught.

It wasn't true, to her knowledge; she had yet to participate in any epic battles like the tales, nor fight beasts made of fire and shadow. In fact, she was unsure if magic was real or not. Her aunt insisted it was, but Katrina was nothing if not practical; without proof - real, proper proof - she couldn't believe. Perhaps it was this lack of belief that caused the High Council to send her on this mission to Chicago, Illinois. It seemed that fate drew her here quite often, and for no real purpose other than to investigate leads for an organization she knew nothing but lore for.

'And here we go again …' That thought, however irritable it may be, could not completely dispel the misgivings she had about The Silver Hand. They did some good, sure, but could she really dedicate her entire life to an organization that would lend her abilities to a government regime bent on subjugation? She didn't know, and there were no easy answers for her, other than to leave; a distinct possibility as she has not yet taken her Blooding, tying her forever to the organization.

But if she did leave, what could she do? Other than restoring her family, there was no purpose in her life save for what The Silver Hand gives her. They direct her blade, give her companionship and advice when she needs it and space when she doesn't. Her own aunt is in the High Council, how could she just leave? No, she was stuck with them until death, she was sure, and that is why she needed to get her head in the game so she could disprove the creature and get home.

Noiselessly, she settled into the dark alley, foot alight on a golden circle. Similar circles were clasped around her wrists and neck, visible even through the thick leather armor she was wearing. Save for the golden circles, the only features visible on her were her eyes - blue spheres as intense and beautiful as the lightning she was chasing - and her hair, a sharp contrast to the lightness of her eyes, kept in a long ponytail that bobbed and weaved behind her. Each step formed a new circle, stepping softly on the overturned bins, but not disturbing them in any way, as she picked her way over the upturned trash and disturbed ground. A benefit to her certain mutation; it makes getting up close and personal to a crime scene a piece of cake.

It was odd; the scorch marks were not of any sort she's ever seen before. While the description was similar to ball lightning, she's never heard of ball lightning have any sort of physical impact on solid ground before, nor for having such a powerful electromagnetic current; not powerful to wipe out the lights in a city, for sure. Softly, she trailed the tips of her gloved finger around the crater, recoiling in surprise at the temperature.

"It's … cold?

But how? Now that she was felt around, it was cold; quite cold, in fact, especially for the Midwest in spring, even at night. Something was very wrong here; the hairs on the back of her neck were standing on end, and she didn't think it was from the atmosphere. She straightened up, the golden circles under her feet spinning slightly as she turned, eyes scanning the skyline, as if she could see some semblance of an answer on the horizon. But there was nothing; not even a storm, and, come to think of it, no rain puddles like one would expect from a storm. Definitely not typical lightning, then. Underneath her mask, Katrina frowned.

"What is this, then? Why did the High Council send me to this place, to investigate this? It makes no sense."

Slowly she spun, one foot in front of the other, soundlessly absorbing the sights and sounds of the alley, looking and waiting for something - anything - to stand out.

Katrina A. Russel

Forum Moderator





Status

:


Quote

: "Insert Quote from Character Here" or etc.



Warnings

:


Number of posts

: 132


Registration date

: 2017-06-25



Another flash of brilliant blue was seen across the city, this time it left behind a fragment of metal, and once more in a different area; this time leaving several pieces of shattered glass. The sphere appeared inside of the post office, the letters and mail being thrown about as random rivets and bolts began to fire out like hail. Wherever this sphere appeared and then disappeared from, it left nothing but destruction in it's wake. Thankfully, there were very little casualties thus far. But then the final appearance of the sphere of energy. Crackling electricity back in the very alleyway that a certain, stealthy little ninja had gone to, and not so far off from where the traveling detective had been.

  The lightning slashed out, ripping and zipping past the ninja's head, barely missing her as the crater in the ground dug deeper and deeper. Glass fragments were being thrown around, sharp as a razor's edge and whistling as they sliced through the air with a fury that even the god may be wary of. The fire-escape to a nearby building began to collapse as the sphere of energy began to pull things inwards, trash cans, litter and garbage, even a stray cat was beginning to feel the pull. The smell of bleach and ammonia came through with a small gust, it seemed as though this sphere of energy was exhaling just as much as it was inhaling. A very heavy, freezing fog seemed to blow from the center of the sphere as the energy began to dim, faintly a small celestial humanoid form could be seen, suspended in the air almost as if they were falling. Pillars of strange metal seemed to materialize and arch over them, almost surrounding them before falling inwards, landing on the being.

    The fire escape was pulled from the roof of the building, the old and rusted metal letting out a pained groan as it collapsed, folding over and crushing the small celestial creature as the energy faded completely, leaving an incredible crater and a lot of debris covering over it. The chill in the air was still very present, the metal all around the area was freezing to the touch and a thin layer of frost would form on any of the windows nearby. The metal groaned, as did a small voice as the metal began to move and shift slightly, a loud clang being matched only by a wail of pain.

 "AAAooooowwww!! Aha-oooowie!" It cried out before groaning and whining a little, trying to peer around the metal that had formed around them, trying to get a glimpse of anyone, or anything, but nothing would budge. The young man was far too weak. But in the next moment, he felt jhis suit constrict and his arms move against his will, the metal moving just enough for him to get a look at the people outside, looking in at the crater, that had now been made deeper by the second appearance of the now-vanished energy sphere. The first thing the young, bronzed skinned boy would likely see would bee the ninja, oddly enough. A voice in his head began to inform him of the amazing woman he beheld.  

   "Katrina Anne Russel, accomplished member of the secret organized group; The Silver Hand. Your father's database indicates that Katrina was a very accomplished member, though she meets her untimely demise when sent on her most memorable mission; To destroy The Circle of Death, an order that was actually the result of a miscommunication. She is forever commemorated for her accomplishments as "The One who-" I'm speaking to you, Ethan Miles, do not fall unconscious, that is considered very rude." The voice went through Ethan's head, though absolutely none of this made any sense to him. He didn't even remember ther name he had stated belonged to the woman as his vision blurred and he began to fade. "I must assure you, I will NOT repeat myself so you need to either pay attention or-" Then the boy faded from consciousness, passing out and leaving the Artificial intelligence alone within his little mindspace.

  "...This is going to be a very strained partnership..." The A.I noted to itself alone within the mindspace before it began to exerecise it's dominon over the young boy's body, jump starting certain metabolic processes and attempting to stabilize the hormones and other internal factors. It was it's hope to facilitate a faster recall to consciousness, though at the moment it seemed unlikely. For now, he was trapped in the body of a 13 year old time traveler, pinned under enormous weight, unable to really move.

Kid Kronos




Status

:


Quote

: "Even criminals should have class."



Warnings

:


Number of posts

: 25


Registration date

: 2015-12-24



"There!"

As soon as Vincent saw the flash of blue light he sped off to meet it. Unfortunately for him by the time he got there the sphere had disappeared only leaving a destroyed post office behind.

"Aw crap. I missed it." Upon realizing that he was too late Vincent took to the skies again looking for another opportunity to catch the sphere... Luckily for him another opportunity did arise. He flew down as fast as he possibly could determined to catch this thing. When he did reach the ground again all he saw were some destroyed street lights and a damaged road. He had let the sphere of energy escape him yet again.

Some people would be discouraged after just failing to catch the sphere of energy twice, but Vincent wasn't! Or at least he wasn't discouraged at first. Every time that he saw a blue light flash from up in the sky he would immediately go chasing after it, and would always get there too late. After several more failed attempts at finding this thing Vincent began to lose hope. He stood around in the sky thinking to himself. "What if this ball of energy is just way way faster than me?" That thought was the one that made him think about giving up. If the ball was faster than him there's no way he could ever catch it. On the off chance that it stayed in one place long enough for him to reach it it could just run away!

"Yeah fuck this," he said to himself "there's no way I could catch this thing so I'm just going to leave." As he turned around to begin the flight home he saw the blue light appear one more time in a nearby alleyway. Although he really didn't want to do this Vincent let out a sigh and went to go check it out.

Hovering a hundred or so feet above the alleyway Vincent quickly realized couldn't see anything and began to slowly float down. As he slowly descended he saw a woman, a destroyed fire escape, a crater, and a person in the crater. The person in the crater appeared to be talking to itself. "Should I say anything?" he asked himself. "Yeah I guess I could say something, but what should I say? Eh... I'll think of something."

Vincent cleared his throat and the other three that were there would hear a voice about twenty feet above them. "Uh... hi? What's going on here?" He asked them.

Guest

Guest





"Ah...the murder capital of the USA...Chicago.  I wonder what kind of trouble I can cause here?", Fleur De Lis asked herself.  She checked her smart phone for breaking news.  The first story she found was about a strange blue orb wreaking havoc in the Windy City.

"I must find out more about this orb!  It could speed up my research on growing autonomous  carnivorous plants significantly...or not.  Well...only one way to find out..."

::Time skip::

After a while Fleur found the alley where the orb last landed.  She heard some voices.  She got as close as she could to the people gathered in the alley.

Fleur heard a male voice above her. She looked up: "Hey, handsome, why don't you come down and join the party?", she purred huskily. Her eyes then met the others in the alleyway.  Sounding rather miffed she said: "A party?  Now...why wasn't *I*invited?  I even have a few party favors to add to the fun!"  

Fleur withdrew a small green pod---about the size and length of a string bean---but it wasn't a bean at all---with a bit of red right at the tip. It came from a pouch at her left side.  It was attached to an expensive-looking belt around her waist.

Fleur threw down the pod.  It hit the path in the alley where the small group was standing.  It broke open. A sickening smell of rotten roses exuded from the pod, *attempting* to make the others choke.  

Fleur rubbed her hands gleefully, even though her attack might not work...

((OOC: Fleur is a villainess who can manipulate plant/flower/herb cells, but not trees, fruits or vegetables.))
Last edited by Ultragal on July 5th 2017, 12:21 pm; edited 3 times in total (Reason for editing : Corrected a mistake.)

Ultragal

A Sweet Cinnamon Roll




Status

:


Quote

: "To be good, kind, and fair will always triumph over evil, being ruthless/cruel, and being a tyrant/dictator."



Warnings

:


Number of posts

: 263


Location

: New York State


Age

: 62


Job

: Office work/clerical/occasional multitasking


Registration date

: 2016-05-17



Every instinct pounded into the young ninja over the last nine years kicked in, her body propelling itself to the side as the bolt of blue flashed over her shoulder; at the same time, she alighted on the ground, gold rings turning to red. A thin cloud of dust surrounded her feet as the red rings whipped up what loose dust there was in the second before all hell broke loose. The crater widened, forcing Katrina backwards several steps so as to not be enveloped by what she could only imagine as a giant maw. That image was only reinforced by the strange, twisting shape in the center, the billowing 'breath' of cold, and the way it seemed to absolutely consume the surrounding area, including a fire escape unfortunate enough to be in the vicinity.

At this point, Katrina was absolutely perplexed; she was expecting something fierce - or at least mystical - but the bronze-skinned boy seemingly encased in a makeshift coffin (of his own design, if the blue ball was his own design) was nothing like what she thought would be conjured. A teenage boy was way down her list, especially one with such charming green eyes, even if they did seem a bit … pained. Still, any person - even a little one - could be a danger. Hell, Katrina herself was living proof of that. For this reason, she proceeded cautiously, eyes trained for any sign of deceit or danger. With an almost-silent rasp, Charm - the longer of her two exquisite blades - slid from it's embossed sheath, black blade glistening dully in the dark of the night. Silent steps, each one scattering debris from her path, were taken, closer and closer to the young boy. One hand reached out, as if to touch him-

She spun suddenly, three shuriken almost instantly flying to her hand. Starting as simple circles, a simple release reveals four cleverly hidden and razor sharp blades. These she held, breathing heavily, now facing the intruder. He was a tall man and, Katrina could see, fairly young. Her eyes narrowed, but she lowered the projectiles; no use in alienating this man, especially if her could help. Especially since she did not think he got here by mundane means. A quick check confirmed this; no path through the debris field was obvious, save for the one cleared by her red rings, so he either jumped from the building or flew here, both feats of a metahuman. It was doubtful Katrina could clear all this metal by herself, not without harming the boy; but with help, it was possible. Coming to a decision, she sheathed her blade; as she did, the red ring that had embossed itself on the hilt of Charm once again encircled her wrist.

"Can you help him? I'm afraid my abilities are more suited to causing damage than-"

But the sound of another voice cut off Katrina. Far from being nervous about this intruder, Katrina just felt annoyed; were the days really gone when someone cannot even order others around without interruption? The Silver Hand would never tolerate such insurrection; somebody interrupts the instruction process, they are forced to walk the Field of Bones with no equipment. It was not a pleasant experience; Katrina still had nightmares about the experience, though it did teach her to not talk back to her aunt. As it stood, Katrina was tired of intruders, and was half-tempted to teach these party-crashers why you don't mess with a member of the Silver Hand, when-

"Wha- Party favor? What do you-"

But the meaning was soon made clear; as soon as she the small object (Katrina was too far away to see exactly what it was), a sickening smell - like rotten vegetation - filled the area; while not knowing it's exact specifications, Katrina recognized a poisonous capsule when she saw one. Hell, The Silver Hand used them all the time. She kicked into action; instead of attempting to disperse the gas, or even react to the threat at all, her first instinct was to get this kid free. He held the answers to the blue ball and, maybe, to why there's suddenly a freaking metahuman get-together in a dark alley in the middle of one of the dangerous cities in America. It couldn't be a coincidence.

She leapt, as graceful as a gazelle, her foot touching the wall; instantly a gold circle formed, the shift happening immediately. In the same motion, she threw three capsules; one at her feet, one at the intruder, and a third at the hunk of metal. Smoke, thick and grey, spiraled out from the source of the impact, and Katrina again got to work. Another shift and she slid down the wall, a grinding sound the only herald of her arrival as her boots carved a groove down the wall. The circles were again red, but this time, both blades were drawn, the gold hilts encircled by red. These she used to cut the metal as delicately - but quickly - as she could. The smoke would last only moments, but the hardened metal of the blade should slice straight through the metal, particularly when enhanced by the power of her red rings, increasing her power by fifteen times.


Katrina A. Russel

Forum Moderator





Status

:


Quote

: "Insert Quote from Character Here" or etc.



Warnings

:


Number of posts

: 132


Registration date

: 2017-06-25



The young boy had since lost consciousness as the small woman had seemed to reach down, as if she were going to reach through the small areas of rubble and metal to touch the young man. She made a swift motion though, and unfortunately it was outside of eyesight. Mostly because the boy's eyes had since closed. It was actually quite a blissful experience, the boy's quiet mind seemed to dream nothing but black as night. It was actually an unnerving experience for the secondary occupant within his cranial confines.

]"This is unacceptable, Ethan Miles. I cannot observe your surroundings like this." The voice echoed. The lack of synapse firing off led the A.I to begin a new approach. Soon enough the A.I itself had it's own machinations that it devised, and with a forcible electrical pulse throughout the cortex, the boy's eyes opened. "Visual reception restored." It noted as it attempted to utilize it's transhumanic link in order to augment and seize control of the boy's body. Alas it was with little success. This new feeling was far too different from previously known existence. A new alleyway had opened to the Formless voice within the boy's brain, feeling, smelling and breathing it's first breath for the first time. There was something about this experience that was eye-opening. Something overpowering.

The woman had seemed to enlist the help of a male, he appeared to be a rather tall and had descended, floated down as if they were just barely heavier than air. The woman had turned and armed herself to speak with him, however there was nothing that the A.I could see, nor say. It was too foreign to the concept of speaking. It didn't take long for the woman, the subject identified as Katrina, to make a suggestion of helping him, though she seemed to say her powers were more for offensive purposes and destructive prowess.

The of course one needed to consider the last of the individuals whom had been attracted to this area, a voice that could be heard, but without any avail to be seen by the A.I from their trapped position beneath their accidental self-made metal tomb. There was a smell permeating the air, one that the Artificial Intelligence found to be heavily unappealing to the nose of the boy, and subsequently shared in his experience. Immediately the body he now presided over began to clench in the stomach, and involuntarily he began making noises as he wretched against his will. Smoke had also begun to permeate the area, and the servant of the Silver hand made quick work of the metallic structures surrounding and encompassing him. Immediately, the A.I recognized the danger of this smell to it's host's body and rewired most of it's process to strength, starting to shove larger beams off with little difficulty.

The young man would attempt to stand, though would wobble, stumble and then fall to his hands and knees, the boy still hadn't blinked since his eyes had opened once more. It was almost as if suddenly everything the boy was doing was something he had been doing for the first time.

____________________________________________________________________________________________________________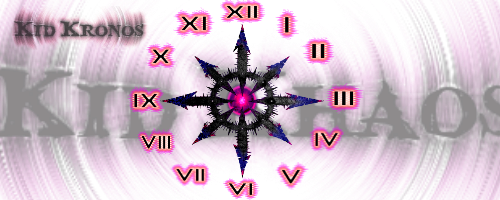 Kid Kronos




Status

:


Quote

: "Even criminals should have class."



Warnings

:


Number of posts

: 25


Registration date

: 2015-12-24



When Vincent flew down into the alley way he didn't expect to be met with such hostility. At first he was angry that Katrina's first instinct was to almost throw some shurikens at him, but he brushed it off thinking that she just freaked out when he seemingly came out of nowhere. As it turns out he was right because she put away her blade and asked him for help clearing out this rubble.

"Sure I can help cl-" His sentence was interrupted as Fleur asked him to come down to 'join the party'. Vincent attempted to explain to her that he was planning on going down already, but before he could say anything she muttered something about not being invited and threw down a bean-like object.

"Okay lady I don't see why you're so upset... I mean this technically you're the one who claimed that this was a party to begin with so me, shuriken girl, or crater boy wouldn't exactly be the ones making invites." As Vincent rambled on and on about how what she was talking about didn't make any sense the smell hit him. He lifted up his shirt to cover his nose and mouth in response. During that time Katrina leaped to a wall, threw down her capsules, and began cutting through the metal.

"Why the fuck is crazy party woman is trying to poison us or some shit? What exactly did we do to her again? I could fly away and let shuriken girl handle this..." he thought to himself, but then he saw Ethan attempt to stand up and fall down. "God dammit that's right. Shuriken girl can't clear all the rubble by herself."

With a sigh Vincent flew down in between the crater that Ethan and Katrina were in and Fleur. He didn't know how long it would take for this gas to have any effect, but he knew that it would probably cripple him before it crippled the other three. He thought about trying to blow the gas away, but that ran the risk of him inhaling it on accident.

Not really knowing what else to do Vincent went for a casual thunderclap. Sure it could possibly get rid of Katrina's smoke pellets, but it would cause little collateral damage and probably clear out whatever gas Fleur laid down.

Guest

Guest





She had heard tales from the more experienced members of the Silver Hand, horror stories about dark magic used to reanimate the dead. They moved like marionettes, with jerky movements and abnormal behaviors. They were not truly alive, just souls thrust into a corpse to satisfy the perverse desires of their masters. They were immune to poison and flame and dismemberment; immune, even, to death it seemed. Only be separating the head from the body would the body, again, fall lifeless to the ground. It were these stories that came to the assassin's mind as the boy suddenly rose to life. Had his eyes not been open and the flicker of life had not been flickering in those emerald orbs, she would have severed his head from his body, nevermind his odd-looking plastic armor.

Still, Katrina could not help but feel a tendril of fear threaten to strangle her. This thing seemed to barely have life, and what life it did appeared to only have tenuous grip on it's host. But she had to swallow this feeling; he was the mission, the source of the blue ball - whatever it was, though seeing what just happened she had her suspicions - and it was her duty to interrogate him, or it, or whatever and return answers to her superiors. However much she may not want to, and she did not want to a lot, she steeled herself for the trials to come.

"Can you understand me? You need to help me get you-"

A sudden thunderclap choked off her words, the rush of air blowing her smoke away and whipping her ponytail like a vine in a hurricane. With a muttered curse, her red rings turned gold and she anchored herself to the ground, keeping her eyes firmly on the young boy. The wind threatened to yank her free from the porch - she did not weight much, after all, even with the added heft of her equipment - but her gold rings prevented such a thing from happening. Thankfully. The smoke made it hard at times to keep her eyes on the target, but eyes on him she did; she was nothing if not dedicated.

She had to act fast; with her smoke and, hopefully, that gas blown away, she need not worry about any poisonous attacks for the moment, though who knows when that crazy chick might attack next. She had to fight the urge to sneak a peek at her; it would be valuable time wasted. Instead, she shot like an arrow at the young man, grabbing him by the waist and yanking him to a standing position. She was hoping he could walk; if not, they were both doomed.

Katrina A. Russel

Forum Moderator





Status

:


Quote

: "Insert Quote from Character Here" or etc.



Warnings

:


Number of posts

: 132


Registration date

: 2017-06-25



((OOC:
https://www.superhero-rpg.com/t10056-rose-rhedde-fleur-de-lis?highlight=Rose+Rhedde
The above link is Fleur's app. She generally wears a different shade of green each day. Her outfit doesn't look like "Poison Ivy" from DC Comics, but she's a "fashionista" who fills her closet by stealing designer clothes.
If a fashion name loses popularity, she just dumps the old clothes and steals whatever is the "hottest" designer name that is more "in".
She considers herself a "diva". She has green highlights in her hair. She thinks she's the most sophisticated socialite in the world. Hence the "party" reference. She's also very vain.))

Ultragal

A Sweet Cinnamon Roll




Status

:


Quote

: "To be good, kind, and fair will always triumph over evil, being ruthless/cruel, and being a tyrant/dictator."



Warnings

:


Number of posts

: 263


Location

: New York State


Age

: 62


Job

: Office work/clerical/occasional multitasking


Registration date

: 2016-05-17



---
Permissions in this forum:
You
cannot
reply to topics in this forum