Top posting users this week
2>
Rating
Language 2: Swearing is generally permitted. However, the language cannot be used to severely abuse.
Sexual Content 2: Sexual content is permitted. References and writing about genitalia and sex acts are permitted, but explicit detail is not. Fade to black, or use the dotdotdot rule. (Let's keep it PG-13.)
Violence 2: Graphic violence is permitted. Explicit description or in-game narration violence is allowed.

Despite these ratings, keep in mind that there is a limit, and you should not cross it just to garner attention. Also, resorting to curse words is also like adding senseless fluff to your posts.
License
Some rights reserved. This forum, and all of it's content, is licensed under a Creative Commons Attribution-NonCommercial-NoDerivs 3.0 Unported License
Disclaimer
Superhero RPG does not own any content written or distributed by Marvel or DC Comics. All of the content referencing to Marvel or DC belongs to its rightful owners. Superhero RPG does not claim rights to any materials used such as Comic Book, Movie, or Video game character images.
Superhero RPG does retain the rights to any and all posts made by the original authors that are a part of SuperheroRPG.

Copyright © 2008-2021 by Chellizard, Spirit Corgi, and Pain. All rights reserved. No part of this website may be reproduced or transmitted in any form without the written permission of the author or the Site Owners.

The Superhero This site deserves
THE LEFT SHARK

Basic Biography

---


Real Name: ???
Renegade/Hero/Villain Name: The Left Shark!
Title: The superhero this site deserves
Alignment: Chaotic. Not good or evil...just Chaotic.
Age: He and his legacy will withstand the test of time
Gender: Left Shark
Race: Shark
Hair: None
Eyes: Black and made of felt
Height: 6'5"
Weight: 250 lbs.
Blood type: Whipped cream

The Looks
   
---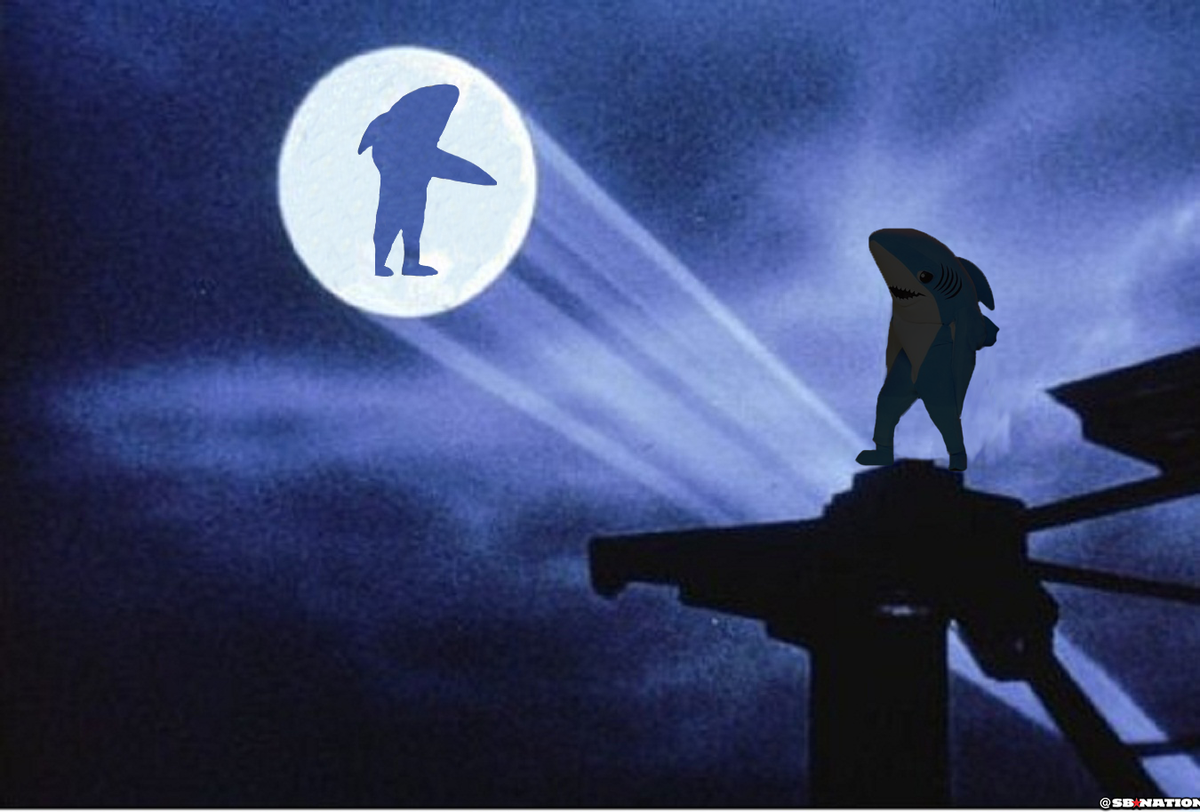 The Legacy
   
---


Personality:
 

Personality with captions:

I am the fin that pops up in the night. I am the urge to tell you boss to go fuck themselves. I am the artist's muse and creativity. I am the symbol for individuality. I am the symbol of giving no fucks.

  I...Am... LEFT SHARK!!!!
History:
This is my history...The story of the left Shark...

Spoiler:

I was born...my mother abandoned me and I was found by a person...

I had the potential to be a real shark..... Long ago....

I grew up, and lead a normal life...was picked on by the kids at school, but in the end it didn't matter. I became a professional football player, and earned so much money that I bought their apartments and then evicted them.

 I was a dick back then....

 Eventually I fell in love with a beautiful woman...

 Wait...what do you mean that's a MAN!?!?!?!?!?

 After figuring out that it WAS a man, I was sad...so I ate them instead. Then I was taken to prison. It would be years before I was released, having turned over a new leaf. But occassionally I would relapse...

 Even as I stayed with my new friends I knew I couldn't resist the primal hunger...the desire to eat people.

 But in the end all I wanted was acceptance...and I was soon a motivational speaker, desiring to drive and inspire everyone I could.

  ...As you can see I was aweful at it.

 Eventually I was ridiculed into a dark path...and I found myself with some bad firends...

  and it as a slippery slope from there...

  I even had to kill a guy. A black guy...

  I will never live it down... but hindsight is always 20/20....

 I eventually was the apprentice of the greatest thief this world had ever known...

  He ended up trading me for a couple shots at the cantina...

I even tried to be a back up dancer for Katy Perry...

That's probably where you know me best from.... It shamed me. No, I'm the one on the left...

But ultimately... It changed me....an that was then I became the Hero that SHRP deserved. Even if I wasn't the one it needed.

 But the road is still not easy....

  There are conflicts, and I've gotten into trouble with villains and other heroes even....

  But in the end we percivered...and I was still a better hero than superman.

 But this was all that had happened...to make me who I am.

  To be the hero...SHRP deserves.

 To be LEFT SHARK!  
The Powers and Weaknesses
   
---



(All characters can be as powerful as they want, as long as they are balanced with proper weaknesses.)


Powers



Shark Physiology: Water-breathig, fast swimming and regenerating rows of teeth with the capacity to eat anything and everything. Stronger than peak humans, swims fater than them, and is more durable with coarse skin.

Superhuman dance skills and Charisma: Are you not entertained? Superhuman fight skill while playing music.

I...am...LEFT SHARK! Left shark can crash into any thread, at any time and cameo the fuck out of it, going and doing absolutely nothing of relevence before leaving



Weakness(es)



Item Reliant: He relies on his items more than his own skills.

Sensetive: He is a sensetive soul, he doesn't like people being mean to him or picking on him

Justice!: He has a strong sense of justice, though no matter what he does he cannot help but go after the illusive bandito penguine.

Fuck you, I do what I want!: Left shark does not contribute anything relevet to the topuic he pops up in...ever. In fact he only makes a cameo and only appears fore a single post.




RP Mechanics



RP Mechanic(s):



Items/Minions


  Whipped-cream boob attachment: A special effect cannon that straps onto his chest. It can spew out whipped cream from his non-existent mammaries. The force of the whipped cream can be a gentle spray or high pressured to the extreme that they could damage star-girl when unleashed.  The weakness of this item is that the higher the pressure, the more it kicks back on him and damages him. It can't be used underwater, and sometimes Katy Perry borrows it and he doesn't have access it.

  Beatbox/MP3: An indestructible MP3/beatbox device that persists and makes noise even in the vacuum of space, underwater, or persisting through the illusions of silence and the noise in not able to be affected in any way by sonokinesis. There is no weakness to this item. It is perfect. It doesn't do much though.

  Firework: Left Shark can make a firework and explode into a variety of brilliant colors. There's also a chance to damage any metahuman it touches. It hurts him as much as it hurts other people
.
Physical Priority
(You are to put these physical attributes in order from 1 to 4. 1 is the highest priority, 4 is the lowest.)
3 Agility
2 Endurance
4 Reaction
1 Strength


" />" />

Zell

The Once and Future King





Status

:


Quote

: "A villain is just a victim whose story you haven't learned yet."



Warnings

:


Number of posts

: 1417


Location

: In my room...or a coffee shop.


Age

: 25


Job

: Existential Crisis Manager


Humor

: [19:57:45] @ Spirit Corgi : In order to produce minions we require you to find two minions who love each other.


Registration date

: 2013-05-07



I should punch you. Did Rory and Pat put you up to this?

Chellizard

Owner





Status

:


Quote

: "A woman's place is in the sky with the goddamn birds."

Nekromonga (08/23/2017 10:05PM): Chellizard the Internet Born, Mother of Nerds, first of her name, Queen of the Gamers and the Roleplayers



Warnings

:


Number of posts

: 4935


Location

: The Internet


Age

: 28


Job

: I Work Full time/Artist/Charizard Enthusiast


Humor

: [18:47:50] Spirit Corgi : Dear mods, I need my apps unapproved. If you don't do it an orderly time, I will compare you to nazis and tell everyone how you are stiffening my creativity, yours truly, a loving member of the site.


Registration date

: 2009-11-15



---
Permissions in this forum:
You
cannot
reply to topics in this forum