Top posting users this week
2>
Rating
Language 2: Swearing is generally permitted. However, the language cannot be used to severely abuse.
Sexual Content 2: Sexual content is permitted. References and writing about genitalia and sex acts are permitted, but explicit detail is not. Fade to black, or use the dotdotdot rule. (Let's keep it PG-13.)
Violence 2: Graphic violence is permitted. Explicit description or in-game narration violence is allowed.

Despite these ratings, keep in mind that there is a limit, and you should not cross it just to garner attention. Also, resorting to curse words is also like adding senseless fluff to your posts.
License
Some rights reserved. This forum, and all of it's content, is licensed under a Creative Commons Attribution-NonCommercial-NoDerivs 3.0 Unported License
Disclaimer
Superhero RPG does not own any content written or distributed by Marvel or DC Comics. All of the content referencing to Marvel or DC belongs to its rightful owners. Superhero RPG does not claim rights to any materials used such as Comic Book, Movie, or Video game character images.
Superhero RPG does retain the rights to any and all posts made by the original authors that are a part of SuperheroRPG.

Copyright © 2008-2021 by Chellizard, Spirit Corgi, and Pain. All rights reserved. No part of this website may be reproduced or transmitted in any form without the written permission of the author or the Site Owners.

FOLIVORA
A Species Last Hope

Basic Biography

---

[flash(500,500)]/Users/Sydney/Desktop/folivora_flirty_profile.jpg[/flash]
Real Name: Stacy Blake
Hero Name: Folivora
Title: A Species Last Hope
Alignment: NG
Age: 19
Gender: Female
Race: Sloth
Hair: Dark Brown, Curly
Eyes: Green
Height: 5'11"
Weight: 125 lb
Blood type: Rhnull (The most rare blood type in the world)

The Looks
   
---

Either include pictures in Spoilers, a smaller picture/s for the profile, or a very detailed description of your characters physical appearance and costume.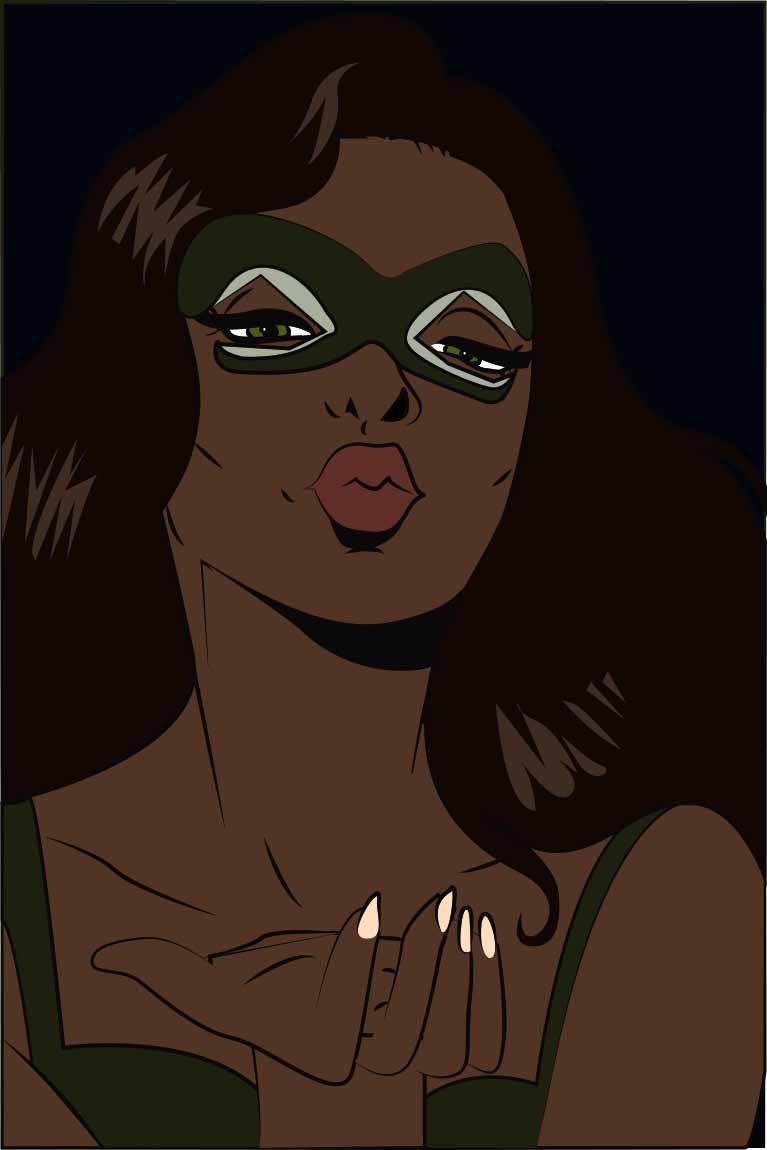 Folivora has dark brown hair put in a half up half down style, the top half is in a topknot bun on the top of her head while the rest falls down in silky curls to the middle of her back. Along the top half of her arms she has tribal patterned tattoos that represent her ancestry. She has very tan skin, but it is closer to olive than it is to brown. On her top half she wears a hazel green sports bra and a tiny strap around her upper arm which contains a small dagger. On the bottom she wears military-style cargo pants which are also hazel green. Around her eyes her skin is a light shade which comes from her sloth DNA since that is a facial feature of a sloth. She has a somewhat muscular upper body and sharp, claw-like fingernails. She wears no shoes, but she only has 3-toes on each foot since she is from a family of three-toed sloths. She has a small waist and toned thighs with a slightly defined set of abs. On her forearms, stomach, neck, and ankles there is light-brown fur that blends in with her tan skin.


The Legacy
   
---


Personality:

Determined, courageous, shy, fierce, with grounded morals and strong values and beliefs. She shows no fear to those around her while in combat but she will show her vulnerability to someone who she truly comes to care for.

History:

Born of half human and half sloth DNA, Stacy Blake took on the species name of her ancestors and became Folivora, a crime-fighter. With her extreme agility and endurance, she has trained herself to be much faster than her sloth ancestors. She comes from a long line of sloth ancestry, she has no idea who her half-human DNA comes from since she was raised by sloths living in the city zoo since she was a child, but they insisted on her having a normal childhood so they disguised themselves as humans and were able to communicate to her since she has the power to communicate with animals. As an adolescent she began to see her sloth genetics begin to alter her sloth appearance and she was bullied for her furry like exterior. Her family then revealed to her of her sloth heritage and how truly special she was. Stacy loved being different and learned to embrace it. But things all changed when an extremely dangerous and vicious poachers league teamed up with super villains and wiped the entire sloth population off the face of the Earth. Stacy became her species only hope. She hopes to one day revive the Sloth population and will continue to punish those responsible for her races extinction until she can figure out this can be possible.


The Powers and Weaknesses
   
---

(All characters can be as powerful as they want, as long as they are balanced with proper weaknesses.)


Powers



Power 1: The Ability to Communicate with Animals

Power 2: The rest of her skills aren't really considered super-powers, since they are things Stacy trained to master like martial arts, climbing, and swimming.




Weakness(es)



Weakness 1: If seriously injured during combat, Floivora will start to move in slow-motion (speed of a sloth) in order to recover and she becomes extremely vulnerable.


Weakness 2: Has a hard time learning to trust others since sloths are a solitary species.



RP Mechanics



RP Mechanic(s): None



Items/Minions



Physical Priority
(You are to put these physical attributes in order from 1 to 4. 1 is the highest priority, 4 is the lowest.)
Agility 1
Endurance 2
Reaction 3
Strength 4

Last edited by sak32 on March 31st 2016, 3:25 pm; edited 4 times in total (Reason for editing : Added a picture of Folivora that I made)

sak32




Status

:


Quote

: "Insert Quote from Character Here" or etc.



Warnings

:


Number of posts

: 1


Age

: 23


Job

: Artist/Part-Time Sloth


Registration date

: 2016-03-04




Champion

Post Mate





Status

:


Warnings

:


Number of posts

: 179


Registration date

: 2015-07-29



---
Permissions in this forum:
You
cannot
reply to topics in this forum