Top posting users this week
2>
Rating
Language 2: Swearing is generally permitted. However, the language cannot be used to severely abuse.
Sexual Content 2: Sexual content is permitted. References and writing about genitalia and sex acts are permitted, but explicit detail is not. Fade to black, or use the dotdotdot rule. (Let's keep it PG-13.)
Violence 2: Graphic violence is permitted. Explicit description or in-game narration violence is allowed.

Despite these ratings, keep in mind that there is a limit, and you should not cross it just to garner attention. Also, resorting to curse words is also like adding senseless fluff to your posts.
License
Some rights reserved. This forum, and all of it's content, is licensed under a Creative Commons Attribution-NonCommercial-NoDerivs 3.0 Unported License
Disclaimer
Superhero RPG does not own any content written or distributed by Marvel or DC Comics. All of the content referencing to Marvel or DC belongs to its rightful owners. Superhero RPG does not claim rights to any materials used such as Comic Book, Movie, or Video game character images.
Superhero RPG does retain the rights to any and all posts made by the original authors that are a part of SuperheroRPG.

Copyright © 2008-2018 by Chellizard, Spirit Corgi, and Pain. All rights reserved. No part of this website may be reproduced or transmitted in any form without the written permission of the author or the Site Owners.
Donate to SHRP!
Superhero RPG will be able to keep our custom domain, copyrights to your works, and an ever growing appearance that will change over time! 100% of your donations will go to Superhero RPG and nothing else.
Real Name: Cassiel
Super Hero Name: None
Title: The Watcher, the Lonely Angel, The eyes of God
Alignment: Usually completely neutral, though he is acting on behalf of the good of all man kind right now
Age: At least 10,000
Gender: Male(Was technically none until he became mortal, but he took on the physical and mental characteristics of a male before then.)
Race: Human, former archangel
Hair: Bluish white
Eyes: Blue
Height: 6'3"
Weight: 207 lbs.
Costume Description/Image: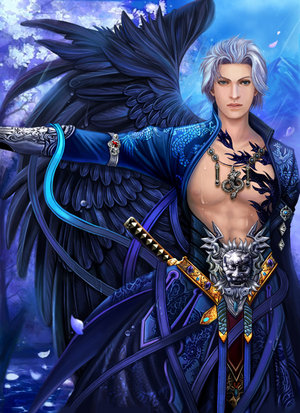 Personality: Tactical, cold, commanding
History: After God created Cassiel He gave him one task, to watch the world and remain distanced from Earth's inhabitants. He remained faithful to his duty until recently. As Azrael came to more weary of the danger Raide posed, thanks to Cassiel's scouting, Cassiel abandoned his post in Heaven to watch from a new place on Earth. Immediately seeking out his old friend Xyron, Cassiel made his new watchpost inside the G.U.N. base, making use of the base's boundless resources to keep a close eye on Earth and it's activities.
Powers: Severe Precognitive sense, Flight, Mind Read, Photokinesis. He carries an unbreakable telescope, which he uses as a weapon of blunt force and to foucus his photokinesis.
PowerGrid:
(Made by Slamfist)

Character Image/Description: See Costume
Roleplay Sample: Cassiel and Xyron were sitting around a table, playing cards. Cassiel refused to look at his cards "This is pointless," Cassiel said,"You will win this round because the flop will be:" the Flop came up and Cassiel Closed his eyes "seven of hearts, Jack of spades, and the Ace of Hearts," the cards were indeed those cards. "I check" Cassiel said, "I might as well fold, but you won't fall for my bluff, in fact you will try to make me fold..." While Cassiel was speaking, Xyron grabbed the exact amount of chips that Cassiel guessed: "75 Dollars worth!" both said one Sarcastic and one excited. "Even without my ability," Cassiel Said as he called his raise, "You are easy to predict. You will attempt to bet a $15 low raise to my check, but then you believe you can change the future and change the bet to $65. Then realizing that I am still reading you, you decide to hit the stack of chips trying to 'randomize' the bet." Cassiel called the raise. the turn was another ace of Spades, Xyron tried to stifle an Ecstatic look, Cassiel then said "but just remember... your 'randomized' bet was not forgotten," Xyron then look a look of fear, Cassiel read him like a book, "It will be $43.27, Xyron" Xyron Did indeed smack the stack into the betting area. it was a predicted $43.27. "Hmm, I might as well call, or my message will have no meaning. The river was a three of spades. Xyron was tired of being a prophetic toy, he checked, even though it wasn't his turn. "Eager are ya, don't worry I'm on your side today. Check." and they flipped their hands, Xyron held an Ace of Diamonds and a seven of spades. Cassiel however held a two of spades and a nine of hearts. Xyron won the pot of $236.54. Cassiel stood up cashing out the rest of the chips he still had. "Looks like today was your lucky day."
Last edited by Toby on December 21st 2010, 2:13 am; edited 1 time in total

Bash




Quote

: "Insert Quote from Character Here" or etc.



Status

:


Warnings

:





Number of posts

: 938


Location

: Somewhere in the middle of NOWHERE!!!


Age

: 28


Job

: workin at a local grocery store.


Humor

: Shoving Food into a bag and eating your money!?!


Registration date

: 2009-10-29


Reputation

: 0



More angels...>.>

Approved and moving to Heroes...
____________________________________________________________________________________________________________
"Midway in life's journey, I found myself in the dark woods, The right way lost, To tell about those woods is difficult, so tangled and rough, It's savage just thinking of it now...I felt the old fear stirring, from where my shadows were born."

The Black Knight




Quote

: "Insert Quote from Character Here" or etc.



Status

:


Warnings

:





Number of posts

: 255


Registration date

: 2009-11-01


Reputation

: 0



Retired character. Trashing.
Similar topics
---
Permissions in this forum:
You
cannot
reply to topics in this forum