Top posting users this week
2>
Rating
Language 2: Swearing is generally permitted. However, the language cannot be used to severely abuse.
Sexual Content 2: Sexual content is permitted. References and writing about genitalia and sex acts are permitted, but explicit detail is not. Fade to black, or use the dotdotdot rule. (Let's keep it PG-13.)
Violence 2: Graphic violence is permitted. Explicit description or in-game narration violence is allowed.

Despite these ratings, keep in mind that there is a limit, and you should not cross it just to garner attention. Also, resorting to curse words is also like adding senseless fluff to your posts.
License
Some rights reserved. This forum, and all of it's content, is licensed under a Creative Commons Attribution-NonCommercial-NoDerivs 3.0 Unported License
Disclaimer
Superhero RPG does not own any content written or distributed by Marvel or DC Comics. All of the content referencing to Marvel or DC belongs to its rightful owners. Superhero RPG does not claim rights to any materials used such as Comic Book, Movie, or Video game character images.
Superhero RPG does retain the rights to any and all posts made by the original authors that are a part of SuperheroRPG.

Copyright © 2008-2023 by Chellizard, Spirit Corgi, and Pain. All rights reserved. No part of this website may be reproduced or transmitted in any form without the written permission of the author or the Site Owners.
Page 4 of 4 •
1, 2, 3, 4
Their mother? Killed.....? By fucking Lucius Alba? The weird meta scientist guy who managed to fumble his way into the seat of some dictator state? Eric's brows furrowed in half anger and half confusion, now he understood why his brother was acting the way he was. If anyone could sense bloodlust, it was Tempest.

"......I-i don't know what to say. I never knew her.....but this guy has to be dealt justice. But i can see it's hurting you. Ryan, you can't blame yourself, or fill the hole with fire. The only difference between justice and revenge is the mindset." Eric said, laying down his bit of wisdom after biting his lip a bit. He then sat down next to his brother, looking over his wounds.

"We should get you back to HQ." Tempest said, but just then....a man walking along the street stopped. If they looked up they would see him staring down at them with contempt, perhaps even sorrow. But who was he?

"Sorry you had to wait so long for this, Ryan. But you must know, it's not always easy to avoid detection from one of the smartest men on the planet." The man of about twenty five said, sticking out his hand to help Ryan up. Eric just sat, waiting for a name or perhaps Ryan to show he knew the guy.

Aurelius

Post Mate





Number of posts

: 110


Registration date

: 2015-03-10



Justice, well that sounded like an impossible thing to find now of all times. Just thinking about it made him grind his teeth, creating an audible sound really. He didn't want revenge really, just the chance to put Lucius in a hole in the ground. Not that he would let his brother know about that, when he could keep that bit about his wants inside. Regardless, getting back to HQ sounded like a good idea, especially since Jordan would likely be able to fix his leg up. Made that healing ability of theirs really useful right about now actually, However, well an unknown person just sorta walked up to them as if they knew him. This put him on guard more than anything, considering they may have been one of Lucius' pawns.

"I...have no idea who you are." Ryan noted with a scowl, keeping his hand to himself as he waited for an answer to that. "So who the hell are you?"

Jordan Reynolds

Mega Poster!





Status

:


Quote

: "Insert Quote from Character Here" or etc.



Warnings

:


Number of posts

: 1030


Humor

: [14:27:18] Danny The Sphinx : So, with wealth 2 you get a spoon and then at wealth 3 the spoon can swallow people's souls, and then at 4 it creates blackholes and then at 5 it ends all existence


Registration date

: 2011-04-04



Hector looked down at the boys, of course they had no idea who he was, he expected that. Perhaps this wasn't the best time....but it was the only time available. So he smiled, taking his hand back back as it was not taken. Ryan seemed to be pretty bitter....which Hector could see. But this would only make things more difficult.

"Well, my name is Hector. I'm a friend of the one you're looking for. Or perhaps it would make things more clear to say he created me, I'm an AI." Hector explained. Hard to believe with the intricate nature of his body, but he could prove it if needed.

"I've come to say sorry. I stood by and watched my creator kill innocent people, when i could have stopped him..... I hope you can forgive me, and i know you will never forgive Lucius..... But if it makes a difference....he isn't hurting anyone anymore." Hector said. The emotion could be heard in his voice, he was sorry.....even though none of it was really his fault. Tempest just sat in with his mouth half open, could this day get any weirder?

"So what? You gonna give us information? Or was this just a random meeting so you could say a few words?" Tempest said, a little defensive considering he just walked out of a fight and burning building.

"No, i came to give you this. It will only be opened when or if you and Lucius meet.....and in your darkest hour on that day, Ryan Lester. This is goodbye, for now." Hector said as he handed the boy a metal disc like object, a glowing cyan jewel in the center of it and fanciful designs around the edges. After that...he walked away, teleporting in an instant.
____________________________________________________________________________________________________________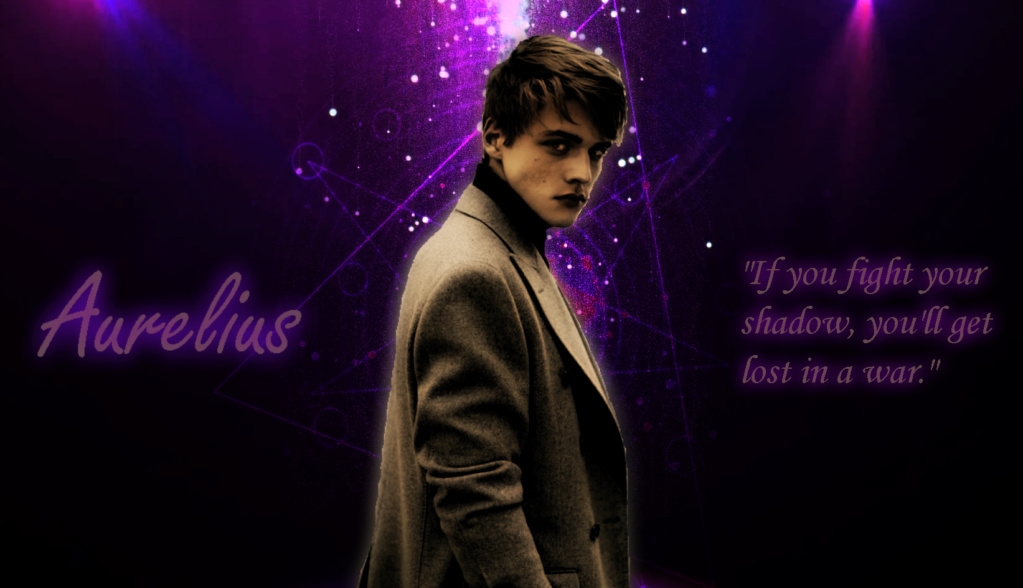 Aurelius

Post Mate





Status

:


Warnings

:


Number of posts

: 110


Location

: The Shroud


Job

: Warden of Will


Humor

: *Screams of anime determination*


Registration date

: 2015-03-10



Hector, that was their name though it wasn't something that he recognized. Something was said about their creator, as if they weren't born but created like some kind of machine. They were an AI, an artificial intelligence but they were so human looking that it made so little sense. Granted, Ryan was not one to understand things like this so that left him in the usual state of confusion that came with him and machines."He isn't hurting anyone anymore? That suuuuure undoes all the murdering he did before." He noted with a roll of his eyes, sarcasm coming as natural as it always did. Just because Lucius' pet ai said some nice things didn't undo what was done, and reparations for that had to be made soon.

He found himself however being handed something, though what that something was left him more with an annoyance than anything else.. It could be a weapon meant to kill him when he put their master in any real danger. It seemed like something that one of his cronies would do anyway, despite how nice they wanted to seem. Before he could question the disc, well they were gone and left him with more questions than answers to said questions. Sighing, and muttering a few curses under his breath Ryan turned to Eric. "Well that was really weird." He noted, realizing that walking around would be annoying, and making something to carry him around conspicuous. "So, let's get back to the HQ before anymore weird stuff happens."

Jordan Reynolds

Mega Poster!





Status

:


Quote

: "Insert Quote from Character Here" or etc.



Warnings

:


Number of posts

: 1030


Humor

: [14:27:18] Danny The Sphinx : So, with wealth 2 you get a spoon and then at wealth 3 the spoon can swallow people's souls, and then at 4 it creates blackholes and then at 5 it ends all existence


Registration date

: 2011-04-04



Page 4 of 4 •
1, 2, 3, 4
Similar topics
---
Permissions in this forum:
You
cannot
reply to topics in this forum