Top posting users this week
2>
Rating
Language 2: Swearing is generally permitted. However, the language cannot be used to severely abuse.
Sexual Content 2: Sexual content is permitted. References and writing about genitalia and sex acts are permitted, but explicit detail is not. Fade to black, or use the dotdotdot rule. (Let's keep it PG-13.)
Violence 2: Graphic violence is permitted. Explicit description or in-game narration violence is allowed.

Despite these ratings, keep in mind that there is a limit, and you should not cross it just to garner attention. Also, resorting to curse words is also like adding senseless fluff to your posts.
License
Some rights reserved. This forum, and all of it's content, is licensed under a Creative Commons Attribution-NonCommercial-NoDerivs 3.0 Unported License
Disclaimer
Superhero RPG does not own any content written or distributed by Marvel or DC Comics. All of the content referencing to Marvel or DC belongs to its rightful owners. Superhero RPG does not claim rights to any materials used such as Comic Book, Movie, or Video game character images.
Superhero RPG does retain the rights to any and all posts made by the original authors that are a part of SuperheroRPG.

Copyright © 2008-2020 by Chellizard, Spirit Corgi, and Pain. All rights reserved. No part of this website may be reproduced or transmitted in any form without the written permission of the author or the Site Owners.
Donate to SHRP!
Superhero RPG will be able to keep our custom domain, copyrights to your works, and an ever growing appearance that will change over time! 100% of your donations will go to Superhero RPG and nothing else.
Page 7 of 7 •
1, 2, 3, 4, 5, 6, 7
"That's...an interesting question." Cale said before genuinely mulling it over. He looked to Ryan, his grin gone for a moment before looking to the judges and smiling again. "That's tricky but I got it. What I'd change about him isn't something I'd change now...but something I WOULD have changed in the past. Ya see, he used to say things like how I was mean and how I was abrasive, but he didn't ever really take the chance to know me. If I could change ONE thing about him... I would have made him try to get to know me better sooner...so then he couldda seen the real me sooner. Then I couldda seen the real him sooner." Cale was smiling, but The Queen of Hearts was looking to Cupid with an ear to ear grin before shaking her head and looking back to them. She then looked to the notecard in her hand and then spoke.

"Well... as delightful as it's been to experience your relationship and this information... we are donw to our final question it seems. The honor is mine this time as I ask you, what is perhaps the most important question of the evening." She said before dropping the card on the table and sitting down, falling into her luxury throne-like seat with the heart shaped back. Folding her hands in her lap she looked rather seriously at Cale and Ryan. "Why on Earth did you bring the police here?" She asked, rather urgent in her tone. Cale's face went as white as a ghost andhe deployed a barrier in front of him and Ryan. The Queen of Hearts rolled her eyes and scoffed before brushing them off a little and shaking her head. She looked...disappointed to say the least before she looked back to Cale.

  "No, seriously boys. This is an actual show...this is a contest to find two people who are exceptionally in love and give them an extraordinary reward. So why did you have the police arrive here thinking that this was part of some naferious plan!?" She asked, looking to Cupid to see what his input on the situation was, if he had any at all. By the end of Cupid's time to speak The Queen sniffled and rubbed her eye, flicking a tear away. "You two had such potential...I wish this had been real." She said before reaching down and grabbing a handkerchief. She proceeded to dab her eyes as her face went a little red. "Who does this!? Makes you feel and then...rips away hope." She whimpered through a suppressed wail.

  "Every character in the Walking Dead? Oh shit...she's crying. Ryan...I think we...broke her." Cale said. He had never seen this side of the Queen before, that's for sure. Silus poked his head around a curtain and scurried over to Ryan and Cale before poking his head between them.

 "Uhm...so...we got bad info... which is strange...because Regal doesn't give bad info..." He whispered before looking at The Queen. "Wow...what's her problem?" Silus asked, loud enough for everyone to hear.

Asmodeus

Post Mate





Number of posts

: 145


Registration date

: 2015-02-26



The answer had been something unexpected for sure, at least as far as Ryan was concerned anyway. It felt sort of like a jab at him, but Ryan couldn't quite tell what it was really. He said nothing, sitting there silently as he had before, nervously tapping his fingers against his leg while the whole thing continued. It seemed the last question had come up, at least it seemed that way but instead it seemed they had known about the whole police thing. Ryan grew pale for a moment, prepared to do something but Cale beat him to the punch, creating a barrier in front of them. With that between them, he felt like he had plenty of time to react but he was floored somewhat when the woman had said this whole thing was legit. They were in an actual thing for couples, which made all of this much more awkward.

Ryan didn't even have anything to say after that, sort of gaping and letting his gaze fall to the floor. "She's right, it wasn't any sort of nefarious scheme. That was just not a very nice thing to do on your part." He said with a shrug, reclining in his seat and looking at the two deeply disappointed. This thing had gone to hell pretty quickly, and he actually felt bad for it, even though he wasn't the one who had called the cops. This probably ruined a lot for everyone else here, meaning that there would...probably be a lot of angry people around here. This felt more like a mistake than it did before.

"Of course she's crying." He sighed, that only made him feel worse. He wanted to go back to the hot tub, at least no one cried because of hot tubs, at least he wasn't feeling bad when he was sitting in one. "Yeah, I think we did." He agreed before Silus appeared, Ryan offering a semi-sullen wave. It seemed he had gotten the police, but as stated earlier, nothing illegal was going on.

"Many things." Cupid answer not unkindly in regards to the question about what was wrong with her.

"I...actually don't feel so good." Ryan stated pushing from his chair and stretching. "Can we go now?"

Maverick

Mega Poster!





Status

:


Quote

: "Insert Quote from Character Here" or etc.



Warnings

:


Number of posts

: 945


Humor

: [14:27:18] Danny The Sphinx : So, with wealth 2 you get a spoon and then at wealth 3 the spoon can swallow people's souls, and then at 4 it creates blackholes and then at 5 it ends all existence


Registration date

: 2011-04-04



"Yeah...let's go." Cale said as he stood up and walked away, Silus at the head of the brigade. Cale's arm was hung around Ryan once more, more out of subconscious thought this time around. Silus seemed to be the first one to notice it as they made their way to the cabin, turning around with a smile and a cocked eyebrow.

  "Yooou know you don't gotta pretend anymore. Right?" Silus asked. Cale took his arm down before sighing. "Y-yea. I guess not." He added before swallowing and turning to look over the balcony. Silus looked down over as well before seeing something that caught his eye, something that excited him really. "Hey Ryan, look! It's an ice-cream cart!" Silus cheered. Cale scoffed a little, but he smiled...so was that good? IT probably just meant that he was shocked was all. Cale did find it humorous though. People with carts and vans play creepy music and children appear from all over for ice cream. Of course with the cruise being all inclusive it was a good thing for them. Silus tried to drag Ryan down for some Ice cream while Cale just stood there and contemplated everything. Lucifer had bad info...that never happened.

Asmodeus

Post Mate





Status

:


Warnings

:


Number of posts

: 145


Job

: The Progenitor of Robo-sapiens


Humor

: :red:


Registration date

: 2015-02-26



Ryan didn't like this sinking feeling, something that made him feel like he was going to throw up, might have been the food he ate. He didn't even notice the arm around his shoulder, well not for a minute until he actually felt the pressure of something against his shoulder. It felt almost reassuring in a way, as to the why he could not quite tell why that was. For a moment he was actually enjoying himself again, another thing Ryan couldn't quite explain so he tried not to think on it, because thinking was not one of this strong suits. He snapped from it upon hearing Silus saying something about how they could stop pretending now.

They were pretending, he had actually forgotten all about that. He looked up to Gadreel for a second with an almost unreadable expression, wondering what was going on with him. There was that scoff, but a smile too, making him wonder what that meant when it came to Cale.  However, there seemed to be ice cream to eat and so he would have to do that. "Ice cream? I'm in." He asked trying to sound as excited as possible, which worked to an extent. Not that he had much choice within the matter, as Silus was now tugging on his sleeve towards the ice cream and he wanted it too, so the only thing to do was follow the shorter male.

He wondered what kind of ice cream they had, though something told him it would be good either way.

Maverick

Mega Poster!





Status

:


Quote

: "Insert Quote from Character Here" or etc.



Warnings

:


Number of posts

: 945


Humor

: [14:27:18] Danny The Sphinx : So, with wealth 2 you get a spoon and then at wealth 3 the spoon can swallow people's souls, and then at 4 it creates blackholes and then at 5 it ends all existence


Registration date

: 2011-04-04



And just like that, things went back to the way they were. Cale sighed as he looked down below at the two kids getting Ice cream. Kids. That wasn't something he ever really thought of Ryan as. Maybe he should start. Not everyone had to grow up early like he did. He contemplated his place in all this. He knew how Silus felt now back at the movie theater, except Silus willingly took Ryan. He didn't belong here and he knew he didn't. He was alone. It was all he ever was going to be. When he wasn't alone he was around robots that made his life even harder. Was this some form of sick punishment, or some divine tribulation of some kind?

"Of course not." He sighed as he verbally said the answer to his own question that lingered in the back of his mind. He made a mistake here today, and he didn't want to let it get out of control. He knew they weren't his friends. Lucifer was close, but ultimately it was he and Ryan. He had no place with them. He wasn't welcome. So just like that...he'd leave as silently as he came. Without so much as a word goodbye. He DID take his luggage though. He arrived home and walked through the door, leaving his luggage on his motorcycle before going up and entering his room to a flash of light. Was that Nostro's teleporter? Of course it was...now where ad THESE two been?

"Of course you're pink." He growled through his teeth, the pressure causing a minor toothache. Closing his eyes and rubbing his eyelids to try and fight off the inevitable headache that came with the color pink, he then decided to make clear a certain point. "Look, I don't even care. Don't even care anymore. What I do care about was where you guys were." He said. Nostro informed him that they were studying. Knowing Nostro that means something got dismantled. All he could do was sigh and nod, accepting the fact that it was too late for him to do anything now. God this day fucking sucked.

Resigning to go to the sparring area he couldn't help but realize that girl following him. Whatever, she might be able to learn a few things. He took down kinetic holoforms easily, but soon enough Big-boss number two showed up. Lucifer's only "rival" for leadership. Cale decided to fight him, taking his anger out on him. But in the end, Seraph won...again. Like always. He lost...again. All he wanted now was to get wasted...this day was the worst day of his fucking life. Angry, annoyed, peeved and utterly wasted he sat in his chair and begin to drift off. His drawings of a new power core were almost breakthrough material, if only he could focus on anything other than continually writing the same damn thing in his chicken scratch...

******

"I told Silus what you wanted me to, now will you just let my mom go!?" The little voice asked as the clicking of shoes hit the stair well. The fine suit straightened out, the cane tapping the ground as he meandered his way to the ground level. The little male stood there, waiting to see that his end of the bargain was upheld. A snap of the fingers and immediately an unconscious mother was delivered to the ground.

"There she is. Perfectly fine, as promised my little occultist." The Scottish voice said with a chipper little note to it's voice. Regal looked form his passed out mother to the man in the suit, Samhain.

"I don't know what you're going to do with that footage...but I won't let you get away with this." Regal said, dead seriously. Samhain just smiled and offered a little chuckle.

"Oh now that's cute. YOU won't let ME...get away with this. Just like a brave macho little hero would say...." He chuckled before nodding and looking at the mechanical little sphere that recorded the video not so long ago. "I'm afraid there's nothing you can do to stop me...you see...you're not the only one that has the ability to mess with another's memory. How do you intend to stop me....when you can't even remember me?" He asked, a casual wave of his hand and then suddenly Regal hit the ground, his mind entirely wiped of the events this evening. His memories would dictate that he had been eluded by a nefarious criminal trying to frame the Queen of Hearts and her friend Cupid.

"Now if you'll excuse me.... I have a monster to make." He said with a satisfied smile. Samhain looked to the Sphere...and then...he was gone.
____________________________________________________________________________________________________________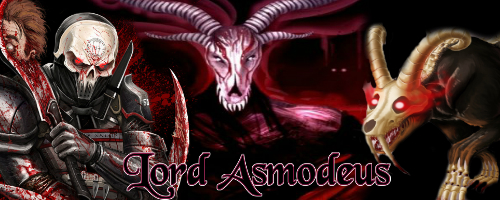 Asmodeus

Post Mate





Status

:


Warnings

:


Number of posts

: 145


Job

: The Progenitor of Robo-sapiens


Humor

: :red:


Registration date

: 2015-02-26



The day hadn't improved from then on, nor had it really declined as much as Ryan could tell. One thing he did notice was that it had begun to rain again, small droplets falling forlornly from the sky upon the little cruise ship, though he had a feeling he wouldn't be there too long. The day had been a roller coaster, one minute he was happy and then the next it all came crashing down into a fiery heap. Part of him hated it, and yet a part of him had enjoyed it, if even the smallest sections of the day. All he knew was that Gadreel was gone, he had disappeared as soon as Silus had drawn him from the guy into doing whatever it was they were doing.

So he had spent the rest of the day with his best friend, doing whatever it was they usually did. Save for one thing that continued to stay in the back of his mind, something that never really mattered until today of all things. It was an itching sensation he couldn't quite scratch and it was driving Ryan crazy in a sense, even though he did not literally go crazy throughout the span of the day. He had fun, there was no denying that but in the end something within him couldn't stay on the ship, so he ducked out the next chance he got. Which seemed to be the plan either way, meaning he could return to The prodigy base once again as night had set upon the city, with rain still falling.

It was in that place he was truly alone, wandering through the halls with none of the other members around. All he could hear was the radiant sound of the rain falling outside, and the occasional glimpse of the rain through one of the many windows. Thunder flashed for a moment, bringing illumination before going dark outside once again. Not that there was ever true darkness, but something about the yard had a certain forbidding air to it. This day was nothing but confusion for him, from the weird people attacking to the whole thing with those people on the cruise. Eventually Ryan found sitting in the kitchen where his entire day had begun, sitting in nothing but his boxers like he had been then. He was alone, and for a moment that was how he liked it.

Ice crackled to life within his hand, molding and forming into something else. A small sculpture of two people, carefully molded for perfect detail, even though this piece did not really require that much detail. Hazel eyes looked carefully upon this statue held within his palms, it's cold lost upon flesh that was equally cold. Looking down at it, a small smile crawled across his lips for a moment, fingertips brushing the smooth ice.

Maybe things weren't as bad as he thought.

Maverick

Mega Poster!





Status

:


Quote

: "Insert Quote from Character Here" or etc.



Warnings

:


Number of posts

: 945


Humor

: [14:27:18] Danny The Sphinx : So, with wealth 2 you get a spoon and then at wealth 3 the spoon can swallow people's souls, and then at 4 it creates blackholes and then at 5 it ends all existence


Registration date

: 2011-04-04



Page 7 of 7 •
1, 2, 3, 4, 5, 6, 7
---
Permissions in this forum:
You
cannot
reply to topics in this forum