Top posting users this week
2>
Rating
Language 2: Swearing is generally permitted. However, the language cannot be used to severely abuse.
Sexual Content 2: Sexual content is permitted. References and writing about genitalia and sex acts are permitted, but explicit detail is not. Fade to black, or use the dotdotdot rule. (Let's keep it PG-13.)
Violence 2: Graphic violence is permitted. Explicit description or in-game narration violence is allowed.

Despite these ratings, keep in mind that there is a limit, and you should not cross it just to garner attention. Also, resorting to curse words is also like adding senseless fluff to your posts.
License
Some rights reserved. This forum, and all of it's content, is licensed under a Creative Commons Attribution-NonCommercial-NoDerivs 3.0 Unported License
Disclaimer
Superhero RPG does not own any content written or distributed by Marvel or DC Comics. All of the content referencing to Marvel or DC belongs to its rightful owners. Superhero RPG does not claim rights to any materials used such as Comic Book, Movie, or Video game character images.
Superhero RPG does retain the rights to any and all posts made by the original authors that are a part of SuperheroRPG.

Copyright © 2008-2022 by Chellizard, Spirit Corgi, and Pain. All rights reserved. No part of this website may be reproduced or transmitted in any form without the written permission of the author or the Site Owners.
Page 2 of 2 •
1, 2
The building was collapsing with him on top, Khellendros didn't like the idea too much, but if he rode the debris and rubble down he at least wouldn't have to risk getting crushed instead of making a run for the edge of the building.
"Alex, what is this material?"
"Unknown material emanating strange energy signature, unknown origin."
"Awesome, more meta weirdness for the day. Malys, have you got the interior situation under control?"
"Working on it! Oh, that's a neat trick."
watching Neon shoot lasers from her hands was most fascinating, but she had other matters to attend to, looking around to the other occupants of the building, she took stock of injuries and how many of them there were,
"Everyone, gather in close, I'll shield you from the debris!"
Opening her metal wings and putting them into a dome shape above herself and around those she intended to protect. She turned her attention to Neon's newly made hole in the wall and the fabric that was surrounding the building,
"If you can make a hole large enough for yourself in time, get out as quickly as you can, I have this under control. It shouldn't take too long for me to dig us out of here once the rubble has settled."
Opening a comm link to the man in the flying suit once again, Kellendros repeated his initial inquiries,
"Who are you? And who were that group of people trashing the place? Where are they headed?"
It was then that Alex once again chimed in
"Sir, it appears that the city has lost power, reasons unknown"
This day is just getting better and better isn't it?
"Looks like we need to work together and figure out what's going on here, don't we?"
Once again addressing the man in the flying exosuit.

Khellendros

Post Mate





Number of posts

: 127


Registration date

: 2014-12-21



The members of the Ultra Gang had gathered across the street from the police station and watched as it collapsed. Death and destruction would ensue as the building crumbles and breaks. Even the heroes who had so bravely ventured to this city to stop them would fall here and now. Well, at least that was the likely fate of those they had managed to trap in the building. Two of the four were trapped. 50% isn't too terrible, and with one of the remaining two already damaged, things were going as they should.

"Make sure the two scrapyard heroes can't follow us. We have other business to attend to before they get reinforcements or something. As Tsxero fittingly called it, phase two." Deathbringer ordered to the entire group. Right now it was five against two. With the odds entirely in their favor they could as some might say, bring the pain. Killer Mime fired a series of telekinetic blasts in their direction as Savage ripped a chunk of concrete out of the ground and hurled it at them. The heroes would have to deal with what was incoming regardless of whether or not they attempted to pursue the gang. Trying to pursue would be met with great difficulty though.

"Time to go." Deathbringer said and they would set off to take their leave. Killer Mime created an illusion that made it appear like there were a dozen of each of them running in nearly every conceivable direction. Once they had avoided any possibly attempts at a pursuit, they would meet up with the rest of the gang that had attacked the power plant and move on to the next part of the plan.

Forceaus

Mega Poster!





Status

:


Quote

: I am hilarious, and you will quote everything I say.



Warnings

:


Number of posts

: 2604


Location

: You're locked in with me at it.


Job

: It pays the bills


Humor

: I'm the cult of personality and history shows again and again that nature points out the folly of man.


Registration date

: 2011-12-22



Tsxero should have been happy. They were doing well thus far. Unfortunately he was internally conflicted. When given an order he would willingly, eagerly and efficiently obey. But this time there was a new factor in the equation. The man in the suit hurt him. He hurt him rather well too. Tsxero was keeping pressure on his arm, knowing he'd need some other means to apply pressure. He very well couldn't fight holding an arm like this. He growled and trilled as he turned and followed the directive. He knew what to do, the second phase was in motion now. He would be lying to state that he wanted to meet the armored man again, but he'd be lying to say he didn't wish to encounter him again. Tsxero was in prepared, he was foolish and stupid. Tsxero could only hope that μrsine X had in fact died. Tsxero had disgraced himself with his recklessness -oh hey look there's a black lab. Delicious.

After having stopped to chew upon the running mutt, he began to look around, noting that he was near a school yard. No doubt people inside watching his heinous actions if they were not hiding under their desks. Tsxero's attention was not on them however, his attention was fixated to the flagpole. More specifically the flag. If he could scurry up the pole he could use that flag to wrap around his wound. Yes...that's what he'd do. He had time however, as he was the fastest living thing there it would seem. Quickly he hurried up the pole, tearing it off before hanging there and looking over the surrounding area, like King Cong. Finding the area safe he quickly descended and wrapped up his arm. He had plenty of time to reach his next designated destination.

(Final Post form Tsxero)
____________________________________________________________________________________________________________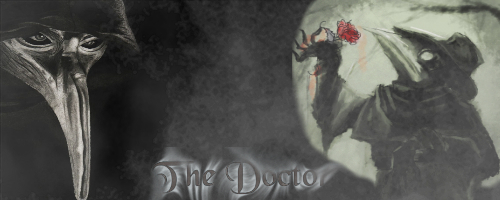 The Doctor

A Drunk Homosexual




Status

:


Warnings

:


Number of posts

: 162


Job

: I'm a Doctor


Humor

: "People remember me for being the creature with the child armor...I regret nothing."


Registration date

: 2014-07-09



It was within trying to follow after the villains that he took notice of something, threads wrapping around the building and tearing it down. Ducking and avoiding the attacks thrown at him, vanguard noticed the multiple clones that spread outward, not having enough time to follow each one of them and turning back to the scene of destruction, and a voice registering on his comm link. "I'm Vanguard." he started by answering,, knowing there was nothing he could have done against the thread constricting the building, just remembering to make them pay for that more. "I have a readout of where I think they will be going, and what they may be doing. It's pretty risky to do this alone, but I have a feeling this is just the start of their rampage." He landed softly on the ground, scanning the wreckage for life, and seeing a few signatures amidst it. "I'll tell you what I have, if you do the same."

[Vanguard last post]

The Bolt

Mega Poster!





Status

:


Quote

: "Insert Quote from Character Here" or etc.



Warnings

:


Number of posts

: 1261


Age

: 26


Humor

: [19:51:49] Samify : Sean gave and I recieved many things


Registration date

: 2011-04-26



Neon can hear the crumbling of the rock, and debris all around her. "Come on.. just a bit longer!" She grits her teeth as her light beams work on the fabric, this crap was strong, stronger than anything she tried to cut before.  But she knew it would break eventually.  "Break you bastard!"  She yells as finally her beam shoots through the side, creating a decent sized hole.  She turns around to the dragon, and the civilians. The dragon told her to leave as soon as possible, she could take care of the civilians.  "Be careful alright!?  Keep those people safe, I'll meet you outside!"  She calls out to the machine before darting out of the hole in a flash of light, escaping the imploding building.  (Neon's last post)

Orsy

Post Mate





Status

:


Quote

: Don't let the kitty fool you, this Orsy is a happy boi.



Warnings

:


Number of posts

: 143


Location

: Somewhere


Age

: 27


Job

: None'ya


Humor

: HAHAHAHAHA


Registration date

: 2015-01-06



The building had collapsed with Malys and that meta girl in it, his day couldn't possibly be getting any worse at this point... could it?
"Sir, inbound object, mass of concrete intent on impact."
turning towards the chunk of debris, he casually draws Wrath and slices the slab in twain so that the two chunks pass on either side of him instead of hitting it's intended target.
"Now I am pissed."
Scanning the rubble for any signs of people separated from Malys during the collapse, he is relieved to note that most of the heat signatures are with her.
"Malys, is everyone all right in there?"
This day is turning into such shit right now! What the hell is going on today?
Lifting up slightly to test the overall shift of the rubble she was buried under, Malys had taken some integrity damage, but was otherwise still functioning. Moving things around slightly so that she could check those she had shielded, Khellendros chimed in with his question.
"Yes, everyone seems to be all right in here, the meta girl that was in here with me seems to have escaped the initial collapse. I am damaged but still functioning, systems are normal. It will take some time to extricate myself from here though so you should see to the people that did this."
Turning to the people she had saved.
"Everything will be all right, I will get you all out of here safely."
Clicking off of the link with Malys, Khellendros turns to Vanguard when he introduces himself and states the agreement to share information,
"I personally have no idea what is going on here right now to be honest, any information you can give would be greatly appreciated and in return I shall render what aid that I can. My name is Khellendros, I am a mercenary on contract for conflict intervention, I definitely was not expecting the day to actually require it. I have a counterpart under the rubble who will handle the excavation of the survivors for the time being, her name is Malystrix."
Thinking on it, he realized Malys had said the girl had made an escape from the building before it fell.
"There is one more here that could help us, she apparently was able to escape that strange substance that was encasing the building. We could definitely use that kind of firepower in this situation."
Scanning around, he begins searching for her...
(Khellendros & Malystrix last post)

Khellendros

Post Mate





Status

:


Quote

: [21:03:51] Odien : Well, the origins of All Fools Day are unknown, the theories dubious at best.

[21:04:06] Khellendros : a joke at worst?



Warnings

:


Number of posts

: 127


Age

: 32


Job

: Quality Analyst, boring but stable


Humor

: Schroedinger's Cat, it is everywhere yet nowhere


Registration date

: 2014-12-21



Page 2 of 2 •
1, 2
---
Permissions in this forum:
You
cannot
reply to topics in this forum