Top posting users this week
2>
Rating
Language 2: Swearing is generally permitted. However, the language cannot be used to severely abuse.
Sexual Content 2: Sexual content is permitted. References and writing about genitalia and sex acts are permitted, but explicit detail is not. Fade to black, or use the dotdotdot rule. (Let's keep it PG-13.)
Violence 2: Graphic violence is permitted. Explicit description or in-game narration violence is allowed.

Despite these ratings, keep in mind that there is a limit, and you should not cross it just to garner attention. Also, resorting to curse words is also like adding senseless fluff to your posts.
License
Some rights reserved. This forum, and all of it's content, is licensed under a Creative Commons Attribution-NonCommercial-NoDerivs 3.0 Unported License
Disclaimer
Superhero RPG does not own any content written or distributed by Marvel or DC Comics. All of the content referencing to Marvel or DC belongs to its rightful owners. Superhero RPG does not claim rights to any materials used such as Comic Book, Movie, or Video game character images.
Superhero RPG does retain the rights to any and all posts made by the original authors that are a part of SuperheroRPG.

Copyright © 2008-2018 by Chellizard, Spirit Corgi, and Pain. All rights reserved. No part of this website may be reproduced or transmitted in any form without the written permission of the author or the Site Owners.
Donate to SHRP!
Superhero RPG will be able to keep our custom domain, copyrights to your works, and an ever growing appearance that will change over time! 100% of your donations will go to Superhero RPG and nothing else.
Name: Azrael, Angel of Death
Superhero/Villain Name: Azrael
Age: Unknown
Gender: Unknown but has a masculine voice
Race: Angel
Looks: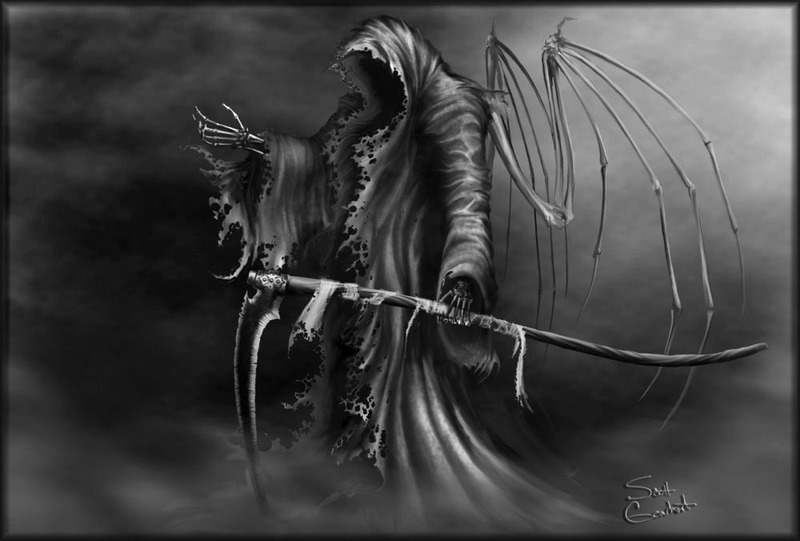 Hero/Villain: Neither
Personality: Cold, humorless. Determined to do his job. Can't be persuaded.
Powers: Flight(fast as a fighter jet) - 4
Can turn himself invisible and intangible - 3(previously rated power that I nerfed a bit.)
When he comes to take a soul time stops for everyone but him and the dead.
The ability to warp short distances.
Immortality
How powers were given: "Born" with them
History: Azrael has existed since the dawn of life. He was assigned to the task of ferrying souls from this world to the next. Many view his existence negatively, a stigma he has grown to accept. He exists as a nescessity to the well-being of the Universe and takes his job accordingly serious. As the Angel of Death, Azrael is allowed to stay on Earth for extended periods of time without forgoing his immortalty(a moot point as no one would be able to claim his soul if he died anyway). It was Azrael who Xyron had stopped from ferrying a dying teen's soul to the afterlife, and Azrael who took Ein but was unable to claim Emmett. Azrael holds a certain ammount of respect for Shamgarel and a level of contempt for Xyron.
Last edited by Slamfist on April 29th 2009, 11:30 am; edited 1 time in total
Since no admin will I'll approve myself.
I'll approve!!!!

jk, but we do need this guy pretty quick. Oh, and it was a girl that i saved from certain death, remember? *wink*

Bliss

Administrator





Quote

: I'm pretty much the Captain Kirk of this place when I'm not too busy being the Han Solo.



Status

:


Warnings

:





Number of posts

: 2057


Job

: Exerter of feminine "Whiles"


Humor

: [16:00:27] devistation : bliss you only bann me because you are scared you use your moderator powers to get rid of people u know is right but hate because they are right but if anything there is treatment for your disease of being scared of better people so you should go by some have fun bye bye


Registration date

: 2010-11-18


Reputation

: 46



---
Permissions in this forum:
You
cannot
reply to topics in this forum