Top posting users this week
2>
Rating
Language 2: Swearing is generally permitted. However, the language cannot be used to severely abuse.
Sexual Content 2: Sexual content is permitted. References and writing about genitalia and sex acts are permitted, but explicit detail is not. Fade to black, or use the dotdotdot rule. (Let's keep it PG-13.)
Violence 2: Graphic violence is permitted. Explicit description or in-game narration violence is allowed.

Despite these ratings, keep in mind that there is a limit, and you should not cross it just to garner attention. Also, resorting to curse words is also like adding senseless fluff to your posts.
License
Some rights reserved. This forum, and all of it's content, is licensed under a Creative Commons Attribution-NonCommercial-NoDerivs 3.0 Unported License
Disclaimer
Superhero RPG does not own any content written or distributed by Marvel or DC Comics. All of the content referencing to Marvel or DC belongs to its rightful owners. Superhero RPG does not claim rights to any materials used such as Comic Book, Movie, or Video game character images.
Superhero RPG does retain the rights to any and all posts made by the original authors that are a part of SuperheroRPG.

Copyright © 2008-2020 by Chellizard, Spirit Corgi, and Pain. All rights reserved. No part of this website may be reproduced or transmitted in any form without the written permission of the author or the Site Owners.
Donate to SHRP!
Superhero RPG will be able to keep our custom domain, copyrights to your works, and an ever growing appearance that will change over time! 100% of your donations will go to Superhero RPG and nothing else.

Facade


Basic Biography

---


Real Name: No-one knows
Renegade/Hero/Villain Name: Facade
Title: The Faceless One
Alignment: Chaotic Evil
Age: No-one knows
Gender: Presumed Male
Race: No-one knows
Hair: No-one knows
Eyes: No-one knows
Height: 6.6 feet
Weight: 79 kg
Blood type:No-one knows

The Looks
   
---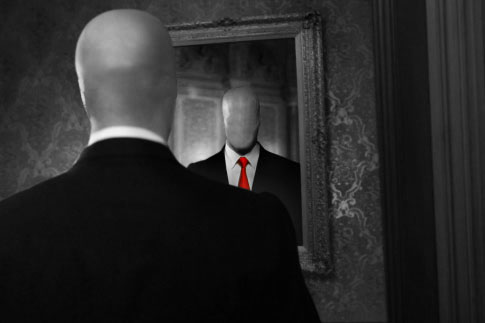 Spoiler:
The Legacy
   
---


Personality:
Cold and murderous. No-one has ever heard him utter a noise. People are in absolute terror of him. He is a crazed vampire killing for revenge. He has a massive identity crisis not knowing what race or species he is from, that is why he wears a white mask.

History:
Facade has no history no-one knows who he is they can just guess, some say he is a demon here to wreck wrath, others say he is a fallen angel out for revenge, will we ever know?


Spoiler:

He has killed hundreds of people but has no pattern or does he, he can kill in the blink of an eye with his nanomites that can take on the shape of anything within their size range. He usually uses the nanomites in the form of a pistol.
Whoever he or it is, he will prevail.

He is not a demon nor is he a fallen angel, he is a crazed vampire. Facade is a vampire shunned by his pack because he fell in love with a mortal. He followed every night and every day without her knowing, he was her guardian angel. When his pack found out about this they caught Facade and caged him and dragged the mortal he had been following into the same room and they started feeding on her, drinking her blood and tearing her flesh. Facades anger bristled and he smashed out of the cage and started killing his own pack a offense unforgivable in the vampire world. He then fell to the ground passed out.

He remembers nothing of who he is or was all he knows is that vampires killed his true love. Not knowing who are vampires he kills anyone who does anything slightly mean, if a father scolds his daughter that father will never see daylight again. Although he is doing evil he thinks he is doing good. What do you think?  
The Powers
   
---

Power 1: Healing Factor, 2: He has a extremely powerful healing factor, a knife wound would heal in about 2 hours.

Power 2: Extreme Senses, 2: All of his five senses have been enhanced. If he wanted to he could hear a pin drop a 200 meters away, that is how enhanced all his senses are.

Power 3: Fighting Skills: His fighting skills are basically unstoppable, nuff said.

Weapon: Nanomites: https://www.superhero-rpg.com/t6539-facades-nanomites

Grid
Intelligence:5
Strength:3
Speed:4
Durability:3
Ability:
        Healing Factor, 5
        Extreme Senses, 2
Fighting Skills:8
Wealth:1


Last edited by C-art on July 22nd 2013, 7:57 pm; edited 8 times in total

The Legion

Post Mate





Status

:


Quote

: "Insert Quote from Character Here" or etc.



Warnings

:


Number of posts

: 112


Age

: 19


Registration date

: 2013-07-07



You have 31 points and the nanobites will require a higher intelligence
To have a healing factor of that magnitude, you will need atleast 9 or 10 ability and you can't start with that, so I would either greatly increase the time it takes for him to heal or add points to his grid.

Alpha

AlphaGay





Status

:


Quote

: I was built with no purpose beyond just to satisfy , the tireless thoughts of these curious minds



Warnings

:


Number of posts

: 1831


Age

: 26


Registration date

: 2011-03-25



Personality needs more to it.

The sixth sense isn't allowed. Precognition isn't allowed.

That healing factor is minor at only 2 points.

The nanomites will require an item app.

Forceaus

Mega Poster!





Status

:


Quote

: I am hilarious, and you will quote everything I say.



Warnings

:


Number of posts

: 2604


Location

: You're locked in with me at it.


Job

: It pays the bills


Humor

: I'm the cult of personality and history shows again and again that nature points out the folly of man.


Registration date

: 2011-12-22




Forceaus

Mega Poster!





Status

:


Quote

: I am hilarious, and you will quote everything I say.



Warnings

:


Number of posts

: 2604


Location

: You're locked in with me at it.


Job

: It pays the bills


Humor

: I'm the cult of personality and history shows again and again that nature points out the folly of man.


Registration date

: 2011-12-22



---
Permissions in this forum:
You
cannot
reply to topics in this forum