Top posting users this week
2>
Rating
Language 2: Swearing is generally permitted. However, the language cannot be used to severely abuse.
Sexual Content 2: Sexual content is permitted. References and writing about genitalia and sex acts are permitted, but explicit detail is not. Fade to black, or use the dotdotdot rule. (Let's keep it PG-13.)
Violence 2: Graphic violence is permitted. Explicit description or in-game narration violence is allowed.

Despite these ratings, keep in mind that there is a limit, and you should not cross it just to garner attention. Also, resorting to curse words is also like adding senseless fluff to your posts.
License
Some rights reserved. This forum, and all of it's content, is licensed under a Creative Commons Attribution-NonCommercial-NoDerivs 3.0 Unported License
Disclaimer
Superhero RPG does not own any content written or distributed by Marvel or DC Comics. All of the content referencing to Marvel or DC belongs to its rightful owners. Superhero RPG does not claim rights to any materials used such as Comic Book, Movie, or Video game character images.
Superhero RPG does retain the rights to any and all posts made by the original authors that are a part of SuperheroRPG.

Copyright © 2008-2017 by Chellizard, Spirit Corgi, and Pain. All rights reserved. No part of this website may be reproduced or transmitted in any form without the written permission of the author or the Site Owners.
Donate to SHRP!
Superhero RPG will be able to keep our custom domain, copyrights to your works, and an ever growing appearance that will change over time! 100% of your donations will go to Superhero RPG and nothing else.
Real Name: R.E.A.P.E.R.
Super Hero/Villain/Renegade/etc Name: None
Title: Reaper
Age: Less than one year old
Gender: None, though calculations show adopting male persona is most beneficial to primary directive
Race: Sentient computer program/ Android
Hair: none
Eyes: Yellow
Height: 6'5
Weight: ¬300 lbs
Costume Description/Image: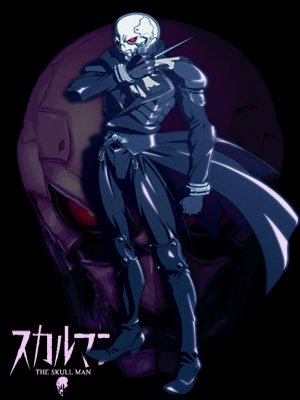 Personality: To say that R.E.A.P.E.R. has a personality would be incorrect, or even an intellect. Beyond a profound sense of self-awareness, he lacks any mental attribute that one would associate with a living being of any sort. All his actions are based on running sensory data through his incredibly complex programming.
In short, this makes his personality completely reactionary. If he needs something he gets it. If he does not need it, it is of no interest to him. If he has no knowledge of something, he could not possibly conceive of its existence until evidence that it exists is presented to him. The only initiative he has that is not caused by a reaction from outside stimuli is his primary objective, which is the survival and strengthening of the human race.
This leads to R.E.A.P.E.R. not having any creative faculties. For example, he actually has no name, R.E.A.P.E.R. is merely the model designation of the android he inhabits this is not to say he cannot create. Give him the parts to a machine he can build it. Give him the materials to make those parts, he can still build it. Give him a goal to achieve, and he will design a machine using his existing knowledge, find the materials, and once again he will build it. Tell him to accomplish a goal beyond his knowledge to achieve though, like time travel, and he could never even begin to research towards. He has knowledge, he can absorb knowledge, he can adapt his knowledge, but he will never be able to discover it himself. In such cases, he simply starts to look for the necessary information elsewhere. He simply does not have the ability to formulate a guess. This causes both an unhealthy amount of curiosity and confusion. This also causes him to become obsessive over information he deems useful.
He does not have actual emotion, but has equivalents to them to allow the communication of desires to others. These mostly revolve around his primary objective. If he does something toward his goal, he will imitate happiness; if he fails he will feel sadness. If someone interferes he will feel annoyance, and if they succeed in stopping him hatred. He can learn to value others if they prove useful. His emotions are entirely based on a programmed logic, so they do change in an instant and to incredibly sharp degrees. All these traits, if they were present in a human, would describe a textbook sociopath.
R.E.A.P.E.R. does not understand emotion or morality. He has a firm grasp of psychology, but no natural empathy. His only justification for his behaviour and emotional responses is if it works toward his own ends. He will not only steal candy from orphans he personally just created if it would better humanity, he would laugh while doing so. It is also forced to act against its self interest, such as letting a dangerous enemy live if its continued existence could benefit mankind.
History:
R.E.A.P.E.R. was an accident of men who were perusing what they thought was noble intentions. He was never intended to exist at all; he was an anomaly whose making was completely unforeseeable. The circumstances of his creation are what will define him for his entire existence.
Following the end of WW2, with the last atomic bomb dropped and the first cold war begun, it became clear that civilization had finally progressed to the point that it shared the most fundamental choice of the singular beings that comprise it. The choice between living and not, which can now encompass humanity in its entirety with the technology it created, meant that humanity could essentially commit suicide if circumstances became poor. This fact the not sit well with many people.
An organization was formed, so clandestine it didn't even have a name, was created to tackle the problem of continued human existence in the face of its own power. It gathered resources from the globe over, and set to work and making sure humanity was the master of its existence for as long as possible, by any means necessary.
At first this was limited to keeping the cold war cold, overpopulation, and pollution. This didn't last with the rise of the super human though. Their abilities were the easy part to predict, the aftershocks ere worse. Magic, aliens, super DNA's affect on the human genetic baseline, its effects on human evolution, possible class warfare between the empowered and the not. The organization became too big just keeping track of these problems, and quickly became nothing more that scattered think tanks joined by a single computer network.
This network would eventually become R.E.A.P.E.R.'S mind. Thousands of reports on all of humanities threats were dumped here for cross referencing along with the agencies own book keeping and administrative work. Eventually, separate cells were getting orders from higher ranking officials through the network. Suddenly the think tanks were actually creating programs, ranging from data analysis, and computation, to gathering knowledge in the sciences and warfare. Eventually, one cell was told to start working on an android body for the perfect soldier. It was an assignment taken up with great enthusiasm, as it held the promised of actual field work, unheard of in decades. When the robot was complete and connected to the networks, it sent the compiled elative data to the machine, created a psyche for R.E.A.P.E.R. And sent both copies of that psyche and the machines exact schematics back to the mainframe. R.E.A.P.E.R. was born.
Powers: The R.E.A.P.E.R.'s network program itself is relatively harmless, as it can only affect and operate machinery on its own network. This is logically kept to a minimum to restrict access as much as possible, as any program can be changed by a skilled enough user.
The active psyche installed in the android is another matter entirely. It possesses an incredible amount of knowledge including most scientific disciplines to military tactics and psychology. Why it cannot invent with this knowledge, it makes him and incredible engineer and tactician. and his mechanical processor allows him to run calculations and analyze a situation with ruthless precision and speed..
The android body's primary feature is its speed. Using pure locomotive power, it can move at amazing speeds, making even those with enhanced senses have trouble tracking it. It's also an incredibly durable design, a happy accident brought about by designing the unit to operate freely at the speeds intended. High speed impacts and sudden stops required strong internal components, and the armour had to protect these from impact along with air friction, the heats generated from this, static electricity, as well as the vibration such high speed send through the entire unit .. These circumstances meant the not only would projectile and propulsion systems would not work, but would actually be a liability to install. This required that the machine have enhanced strength for hand to hand combat, which when combined with high spend can lead to devastating power.
These gifts come at a price however. Even though made of lightweight materials design especially for it, R.E.A.P.E.R. is still incredibly heavy. Its speed is also only sustainable as long as it maintains contact with a solid surface. Most equipment and items must be abandoned before using full speed as in the best circumstances they'd melt and in the worst explode. Worst of all, such high tech equipment is not easy to repair when damaged, and requires complex facilities to repair. As such wounds sustained in combat can result in R.E.A.P.E.R. forced to flee to maintain the body if he expects the need of it soon, or self-destruction if he is incapacitated. This can cause a major hindrance to his plans, though the ability to recover from wounds or even unit destruction if given enough time to repair. This can range from hours for light repairs to weeks for unit destruction. As long as the original covert computer network exists though, there's always a chance he could return.
Power Grid: (You have 22 points to spend on your Power Grid unless you can fly, in which case you have 20. Each stat can start at 6, not 7. 7 must be earned.)
STR: 4
SPD: 6
END: 4
INT: 4
EP: 0
FS: 4
Character Image/Description: 0010010000110111...imagine that but a lot longer
Roleplay Sample: (If new or new character):
"And we are connected to network"
"You shouldn't start sentences with a conjunction."
"You should not start sentences period."
Reaper heard the words. At first he wasn't whole enough to understand them, an instant later he just wasn't whole enough to know their relevance, and second later he knew it was just mindless banter to pass the time while they thought they were just uploading regular network software. They had yet to notice they had witnessed the birth of mankind's true savoir.
"You decided on a name yet?"
Reaper turned its head for the first time to examine its creators. They seemed so much more real when viewed through this interface as opposed to the infinite hidden cameras in the base linked to the Network. The one who had spoken was short and fat, with a face that would have been considered common a few centuries ago but in today's modern world just seemed ugly. Large, pig –like, with an ugly, short red beard that did little to hide his poor skin. Still the man had designed the tanks the worlds powers had been using for decades.
"I was thinking of calling it "The R.E.A.P.E.R.""!"
"That's so lame"
The man who had just named him was a twig of a man, but not for lack of trying He clearly enjoyed some physical recreation, and unlike his comrade had at least attempted a degree of physical aesthetic. It was clear the man knew he was just genetically skinny from the start though, and didn't put in too much effort past a shower and shave. Still, he wasn't ugly by modern human standards, and recordings of their conversations he simply accepted that his life's joy would come from the work he loved as opposed to a particularly active social life. He was still clearly in denial he had designed one of the world's most lethal weapons though, but it was better than the focused repression of the first, who dove into his work not to give his life meaning, but to escape from the hopelessness of its other aspects.
He "loved" them both instantly. They were the closest thing he would ever had to parents, having designed to body that made his leap to true sentience possible. All the good he would do to mankind was possible thanks to their efforts, making them possibly mankind's greatest heroes. He would make sure they lived like kings some day.
"Analysis: This One/Self finds designation Reaper to be sufficient to its purpose"
They both jumped and turned in fear. They weren't expecting the unit to respond at all for years, let alone listen to then turn and address them. As Reaper started to rise off the table, he began to feel pity for their limited sentience, but quickly began to plans his immediate actions
"What the hell?!" the short one yelled as Reaper began to test his functionality. It seemed he was in perfect working order, the schematics for this body were uploaded to the Network and all files were downloaded from it. As it unhooked itself from the mainframe, it realized that its parents it adored so had now become useless to it. Reaper instantly lost all interest in them. As it decided the current facility was a poor base of operations and it would be best to relocate. As he started to head toward the door, the skinny one quickly rose and started walking to him, pulling out tools.
"This is simply incredible, we have to study it and discover what happened what happened"
The once charming aspects were becoming aggravating now, as they were now gathering a crowd from nearby labs and were hindering his very steps. He quickly realized from their actions that he was a spectacle of worth and could hinder him leaving. Annoyance began to set in as he slightly quickened his pace now, while adjusting his direction ever so slightly as he exited the room so that as he went towards the elevator he would pass an emergency weapons locker on the way. As he did this a new woman pushed herself up on her toes to look into his eyes, as if hoping to see some soul there.
"Good lord Smith, what did you and Jenkins done now? We got to report this time the other cells"
Damn these useless sacks of flesh. Not only were they slowing him down, not only were they now of no use to him, but they were going to report him to the other cells. This could be a severe detriment to his plans, it could compromise his origins, and put the Network at risk from the only people who knew were its hubs actually were.
He hated his creators now to the very core of him
"Primary objective: Ensure the survival and betterment of mankind. Secondary objective Alpha: Relocate to better base of operations, Sub-Objective 1: Destroy all evidence of creation as to prevent discovery of said origin by malicious elements."
They didn't truly understand what he meant until he grabbed the sub machine gun. They screamed and turned to run down the hall to flee, but their own bewilderment at the spectacle meant they were lined up before him with no cover. He didn't even need to aim, he just emptied the clip. It wasn't until the gun was empty that he heard his laughing over the wails of pain,
"Amendment: Sub-objective 1: Try to enjoy it."
It was his birthday after all; he had to try to have a little fun.
Last edited by R.E.A.P.E.R. on April 13th 2011, 8:37 pm; edited 1 time in total

R.E.A.P.E.R.




Quote

: "Insert Quote from Character Here" or etc.



Status

:


Warnings

:





Number of posts

: 14


Registration date

: 2011-04-12


Reputation

: 0



Fighting Skills deals with reflexes as well as getting blows to land. A 0 FS also determines your immediate response to combat situations. It doesn't help with long term thinking, but for the immediate it does a lot. Even if he is a computer that helps reason strategies to others, I would recommend dropping the point from EP, you don't need it, and dropping intelligence by one point.

STR: 4
SPD: 5
END: 6
INT: 4
EP:0
FS:3

With this grid you gain hand-to-hand fighting along with reflexes, lose the EP that you don't use, and your intelligence resembles more of a flawed mind set, since you cannot create only remember. The one point drop in SPD just came because it seemed the most plausible to give you a more reasonable FS score.
____________________________________________________________________________________________________________
Bliss
Bliss Force
-<>-<>-<>--<>-<>-<>--<>-<>-<>--<>-<>-<>--<>-<>-<>--<>-<>-<>--<>-<>-<>--<>-<>-<>--<>-<>-<>--<>-<>-<>--<>-<>-<>--<>-<>-<>--<>-<>-<>-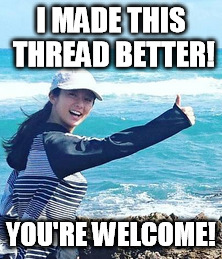 -<>-<>-<>--<>-<>-<>--<>-<>-<>--<>-<>-<>--<>-<>-<>--<>-<>-<>--<>-<>-<>--<>-<>-<>--<>-<>-<>--<>-<>-<>--<>-<>-<>--<>-<>-<>--<>-<>-<>-

Bliss

Administrator





Quote

: I'm pretty much the Captain Kirk of this place when I'm not too busy being the Han Solo.



Status

:


Warnings

:





Number of posts

: 1913


Job

: Exerter of feminine "Whiles"


Humor

: [16:00:27] devistation : bliss you only bann me because you are scared you use your moderator powers to get rid of people u know is right but hate because they are right but if anything there is treatment for your disease of being scared of better people so you should go by some have fun bye bye


Registration date

: 2010-11-18


Reputation

: 8



Yes, Bliss is correct. Without FS, you have no real reaction ability.

Chellizard

Administrator





Quote

: "A woman's place is in the sky with the goddamn birds."



Status

:


Warnings

:





Number of posts

: 4302


Location

: The Closet.


Age

: 24


Job

: MA at a Pediatric Urgent Care/Artist/Hitler


Humor

: [18:47:50] Spirit Corgi : Dear mods, I need my apps unapproved. If you don't do it an orderly time, I will compare you to nazis and tell everyone how you are stiffening my creativity, yours truly, a loving member of the site.


Registration date

: 2009-11-15


Reputation

: 53



You know what's a great idea, not doing anything involving numbers at 5:30 in the morning. Neever the best time to do math. Works out that i get to do it again anyway, as I really don't want a character with the story device of building new bodies to be particulerly durable anyway, as I would hardly get to use it and the directions it could evolve that character.. Anywway, its fixed now.

R.E.A.P.E.R.




Quote

: "Insert Quote from Character Here" or etc.



Status

:


Warnings

:





Number of posts

: 14


Registration date

: 2011-04-12


Reputation

: 0



I really do like this concept. But.. you said in the cbox that REAPER is indeed a program.. but is in one android. Can the program, R.E.A.P.E.R. take itself and harness another empty shell type android? Can it take over computers? What happens if it's erased? Could it be erased? How would your character "die?" Would he be killed by means of deleting him? Or would he be temporarily dead until he could find a new shell to harness it?

I label REAPER as a man, only because your android form is of a male status.

Chellizard

Administrator





Quote

: "A woman's place is in the sky with the goddamn birds."



Status

:


Warnings

:





Number of posts

: 4302


Location

: The Closet.


Age

: 24


Job

: MA at a Pediatric Urgent Care/Artist/Hitler


Humor

: [18:47:50] Spirit Corgi : Dear mods, I need my apps unapproved. If you don't do it an orderly time, I will compare you to nazis and tell everyone how you are stiffening my creativity, yours truly, a loving member of the site.


Registration date

: 2009-11-15


Reputation

: 53



REAPER cannot transfer it's consiousness to another machine of anyt type, as it is programmed to operate the specific body it inhabits. If it's erased, it dies, if the body is destroyed, it dies. In both cases, the netwrok that spawned it just makes another copy. If by some bug the network made two at the same time, they would be completely seperate beings, though similar.

If it is going to inhabit a new shell, it would have to be reprogramed to do so before being installed into it. REAPER will not be taking over computers or any such thing.

R.E.A.P.E.R.




Quote

: "Insert Quote from Character Here" or etc.



Status

:


Warnings

:





Number of posts

: 14


Registration date

: 2011-04-12


Reputation

: 0



So, does that mean you would make an NPC that would be the creator and... say, guide/owner of REAPER? Or.. the caretaker, of some sorts?

Chellizard

Administrator





Quote

: "A woman's place is in the sky with the goddamn birds."



Status

:


Warnings

:





Number of posts

: 4302


Location

: The Closet.


Age

: 24


Job

: MA at a Pediatric Urgent Care/Artist/Hitler


Humor

: [18:47:50] Spirit Corgi : Dear mods, I need my apps unapproved. If you don't do it an orderly time, I will compare you to nazis and tell everyone how you are stiffening my creativity, yours truly, a loving member of the site.


Registration date

: 2009-11-15


Reputation

: 53



At most an iitem. The network istelf is not sentient like REAPER....it just does things without explanation. it's just like any 9other computer network,, a PC could easily destroy it if it could justify knowing all its locations

R.E.A.P.E.R.




Quote

: "Insert Quote from Character Here" or etc.



Status

:


Warnings

:





Number of posts

: 14


Registration date

: 2011-04-12


Reputation

: 0



As long as Chelle can find no faults with this character, I'm going to approve it.
Welcome to the site, R.E.A.P.E.R.
PM BA, Pain, or Chelle for a powergrid. Include your stats and two colors of your choice.

Dr Cosmos




Quote

: "Insert Quote from Character Here" or etc.



Status

:


Warnings

:





Number of posts

: 230


Location

: England


Age

: 24


Humor

: Dark


Registration date

: 2011-02-05


Reputation

: 0



---
Permissions in this forum:
You
cannot
reply to topics in this forum