Top posting users this week
2>
Rating
Language 2: Swearing is generally permitted. However, the language cannot be used to severely abuse.
Sexual Content 2: Sexual content is permitted. References and writing about genitalia and sex acts are permitted, but explicit detail is not. Fade to black, or use the dotdotdot rule. (Let's keep it PG-13.)
Violence 2: Graphic violence is permitted. Explicit description or in-game narration violence is allowed.

Despite these ratings, keep in mind that there is a limit, and you should not cross it just to garner attention. Also, resorting to curse words is also like adding senseless fluff to your posts.
License
Some rights reserved. This forum, and all of it's content, is licensed under a Creative Commons Attribution-NonCommercial-NoDerivs 3.0 Unported License
Disclaimer
Superhero RPG does not own any content written or distributed by Marvel or DC Comics. All of the content referencing to Marvel or DC belongs to its rightful owners. Superhero RPG does not claim rights to any materials used such as Comic Book, Movie, or Video game character images.
Superhero RPG does retain the rights to any and all posts made by the original authors that are a part of SuperheroRPG.

Copyright © 2008-2021 by Chellizard, Spirit Corgi, and Pain. All rights reserved. No part of this website may be reproduced or transmitted in any form without the written permission of the author or the Site Owners.
Donate to SHRP!
Superhero RPG will be able to keep our custom domain, copyrights to your works, and an ever growing appearance that will change over time! 100% of your donations will go to Superhero RPG and nothing else.
Aisha Powers
The Bio
Real Name:
Aisha Powers
Hero Name:
Tardigirl
Alignment:
Neutral Good
Age:
15
Gender:
Trans female
Race:
Black
Hair:
Midnight brown, 4A curls, typically in thick braids just below shoulder-length
Eyes:
Deep, warm rowan brown
Height:
5'8"
Weight:
172 lbs
Blood type:
AB+
The Looks
Sorry about the resolution, I'm pretty code-illiterate. If you click on the image it should bring you to the imgur page though, where the resolution should be better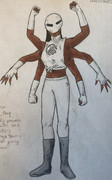 The Personality
Aisha is quiet and independent, automatically defaulting towards solitude. Naturally calm and patient, she is a kind and steady friend. Altruistic, she is grateful for the support she has received and intends to give back to her community through super hero work, whether it be saving a cat or fighting villains. She is also adaptive and practical, a result of her time on the street. She plans carefully and analyzes situations deftly, but isn't afraid to switch to tactics that are better suited to the problem at hand. Incredibly diligent, Aisha is at times overeager to help others and can extend herself beyond her limit. However, she can be very stubborn, and doesn't respond well to criticism. Her patience and conviction foster her determination, and she has a very difficult time conceding during confrontation.
The Story
Aisha was born in Chicago's Fuller Park neighborhood to Jeana Powers, a 19 yr old single mom in poverty. Jeana did her utmost to raise Aisha to the best of her ability, but their lifestyle led Jeana into a spiraling depression that resulted in addiction. When Aisha came out as a woman, Jeana was placed under further stress as a loving mother with internalized transphobia.  Eventually Jeana began to neglect Aisha, forgetting to take care of her and rarely paying her attention except to reprimand or demand a favor. Aisha, knowing that she could take better care of herself and feeling as though she were a burden to her mom, ran away from home at the age of 13. While homeless, Aisha made ends meet through panhandling and drifting in and out of shelters. Although drugs were readily available, Aisha recognized them as ruining her mother's life and avoided those who used or peddled them. After living on the streets for a couple of months, Aisha was approached by another teen who was living in a support home for trans youth. They recently had an opening after a member had acquired independent housing, and the teen had noticed Aisha's struggle and decided to intervene.  Aisha accepted and now lives with five other formerly-homeless transgender kids. After settling in to her new lifestyle, Aisha  got her powers when she ate a salad inhabited by aquatic microscopic animals known as tardigrades, one of which had been alive since phylum
tardigrada
had first emerged 500 million years ago. This ancient being called themself TARDIGOD. After being ingested, TARDIGOD employed their incredible powers to survive death via stomach acid and henceforth live inside of Aisha. While TARDIGOD had anticipated using Aisha as a mindless puppet for the rest of her existence, their incredible powers had the unexpected effect of giving Aisha the ability to withstand TARDIGOD's psychic assault. In an effort to maintain some semblance of authority, TARDIGOD offered Aisha the powers of a tardigrade in exchange for listening to their advice and demands. After experimenting a little bit with her newfound powers and creating a costume, Aisha was ready to help others as the hero Tardigirl.
The Powers
Clawed finger tips that can also function as straws.  They are about as sharp, hard, and lethal as a regular kitchen knife.
3 pairs of arms (function the same as a regular pair, with the claw/straws)
Can breathe underwater through her skin. When above water, she breathes normally.
Can form a "tun"; which in tardigrades is what they're called when they dehydrate and become basically invincible. In Aisha's case, she forms a tun that leaves her whole body scaly and solid; quasi-invulnerable.
Aisha molts once monthly, healing all of her injuries (which do heal normally in the meantime). In addition, she will begin molting if severely injured, although it won't work as well.
The Weaknesses
Although her tun state is formidable, it has several drawbacks. Since she has only recently acquired her powers, she doesn't quite understand how to control it. Instead of becoming invulnerable at will, it is only as a reactionary measure to environmental changes or severe trauma. She is also rendered immobile while in this state, and her senses are severely reduced. In addition, her tun is still vulnerable to fire-based and acid-based attacks.
Aisha is in severe pain every time she molts, the process taking about a day. It's basically the full-body equivalent of period cramps compressed into one day. Spontaneous moltings are even more painful.
Aisha is not used to breathing underwater, so whenever she isn't either completely submerged or dry, she defaults to attempting to breathe, which can occasionally lead to a lungful of water.
The Fluff
Ambidextrous (Used to be a righty so she usually defaults to that)
Only defecates while molting, aka shits once a month
Does, in fact, have a secret identity. She keeps her two extra pairs of arms  in a desiccated tun state, making them easier to fold into either a backpack or a bulky jacket.
The RP Sample
I found an excerpt from an old warriors RP from 3 years ago... there were lots of kids on my old forum so I learned to keep my posts flavorful but concise; to make them fun to read but not so long or boring that they skipped past it. Not sure how that style translates, but its been three years, so
King snarled at the cats who thought that they could stand against her.
"I'm glad you're unified," she gloated, an unsettling gleam in her eye.
"It will make crushing you that much more satisfying." Turning back to her cats, she barked some orders.
"Pin those cats down, We'll take this one next," King said, gesturing towards Sandbreeze.
Application created by
Chellizard
| This code is open-source and available for free use.

Moonflight021




Status

:


Warnings

:


Number of posts

: 16


Age

: 17


Registration date

: 2020-11-29




____________________________________________________________________________________________________________


Zonkes

Site Moderator





Status

:


Quote

: "Insert Quote from Character Here" or etc.



Warnings

:


Number of posts

: 445


Location

: Somewhere between hell and a hand basket


Age

: 25


Job

: Professional Slacker


Humor

: What's the difference between a clown and a pancake? Not much after the steamroller incident.


Registration date

: 2017-01-10



---
Permissions in this forum:
You
cannot
reply to topics in this forum