Top posting users this week
2>
Rating
Language 2: Swearing is generally permitted. However, the language cannot be used to severely abuse.
Sexual Content 2: Sexual content is permitted. References and writing about genitalia and sex acts are permitted, but explicit detail is not. Fade to black, or use the dotdotdot rule. (Let's keep it PG-13.)
Violence 2: Graphic violence is permitted. Explicit description or in-game narration violence is allowed.

Despite these ratings, keep in mind that there is a limit, and you should not cross it just to garner attention. Also, resorting to curse words is also like adding senseless fluff to your posts.
License
Some rights reserved. This forum, and all of it's content, is licensed under a Creative Commons Attribution-NonCommercial-NoDerivs 3.0 Unported License
Disclaimer
Superhero RPG does not own any content written or distributed by Marvel or DC Comics. All of the content referencing to Marvel or DC belongs to its rightful owners. Superhero RPG does not claim rights to any materials used such as Comic Book, Movie, or Video game character images.
Superhero RPG does retain the rights to any and all posts made by the original authors that are a part of SuperheroRPG.

Copyright © 2008-2021 by Chellizard, Spirit Corgi, and Pain. All rights reserved. No part of this website may be reproduced or transmitted in any form without the written permission of the author or the Site Owners.
Donate to SHRP!
Superhero RPG will be able to keep our custom domain, copyrights to your works, and an ever growing appearance that will change over time! 100% of your donations will go to Superhero RPG and nothing else.
Hey there lovelies!
SHRP has always had custom emotes, but most of them are old and outdated... and I thought it would be fun to make new ones using YOUR characters expressing a particular emote!
Here's the list of emotions I've contemplated:
Sad
Disgusted
Angry/Rage
"Thumbs Up"
Smug
Embarrassed
Lewd / "That's lewd"
Love
Confused
Hello/Hi/"Waving"
Excited/Overjoyed
Celebrating/Throwing Confetti
Lurk/Lurking/Peeking
Sipping Tea
"Okay...."/Unsure
If you think there's more emotions that could be portrayed with an emote, you can list it in the application.
Here's what you have to do!
Reply to this thread, attaching this form with the information filled out:
Character Name:Emote/Emotion:Character Image:
(Link a few of them if possible)
Give me a reason:
I would like for you to give me a good reason why this character would be perfect for the emote you're suggesting them for!
[/b][/b]
Code:

[b]Character Name:[/b]
[b]Emote/Emotion:[/b]
[b]Character Image:[/b]
[b]Give me a reason:[/b]
Last edited by Chellizard on May 9th 2019, 2:17 pm; edited 1 time in total

Chellizard

Administrator





Status

:


Quote

: "A woman's place is in the sky with the goddamn birds."

Nekromonga (08/23/2017 10:05PM): Chellizard the Internet Born, Mother of Nerds, first of her name, Queen of the Gamers and the Roleplayers



Warnings

:


Number of posts

: 4907


Location

: The Internet


Age

: 28


Job

: I Work Full time/Artist/Charizard Enthusiast


Humor

: [18:47:50] Spirit Corgi : Dear mods, I need my apps unapproved. If you don't do it an orderly time, I will compare you to nazis and tell everyone how you are stiffening my creativity, yours truly, a loving member of the site.


Registration date

: 2009-11-15



Character Name:
The Traveler
Emote/Emotion:
Lurking
Character Image:
Give me a reason:
Considering that I've been lurking on this site for a while now and he's my most recognizable character I figured he'd be perfect.
____________________________________________________________________________________________________________

Knightfall

Post Mate





Status

:


Quote

: "Woo yeah! I'm like fucking Spider-Man bitches!" -Knightfall
"Didn't your parents ever teach you not to play with guns?" -Knightfall

"Show me a hero and I'll write you a tragedy." -F. Scott Fitzgeral



Warnings

:


Number of posts

: 160


Age

: 28


Job

: Whatever pays well.


Humor

: Dark and sarcastic.


Registration date

: 2017-01-19



Character Name:
Lucius Alba/Red
Emote/Emotion:
Smug/Sipping Bourbon/Evil Stare
Character Image:
Spoiler:
Spoiler:
Spoiler:
Spoiler:
Give me a reason:
Smug: I don't think it's disputed that Lucius is one of the most smug and condescending pricks on the site. He drips with arrogance. Seems perfect to me.
Sipping Bourbon: Like sipping tea, but with more sophisticated ice swirling! This is a staple of the character. I think he pulls off the slightly disinterested elitism that tea sipping requires.
Evil Stare: Lucius has got a temper, and one hell of an evil glare. He even has the red glowing eyes if he's got enough hate brewing inside him. He's one of the bigger villains around, so it makes sense for him to have an evil, lethal stare as an emote.
All: You owe me art of Lucius, Chelle
____________________________________________________________________________________________________________
Other Links:
I thought the price was my soul

That i need only give myself to reach my goal

Now i see that is not the cost

They'll all be taken

This deal was swindled, and i have lost


Red

Site Moderator





Status

:


Quote

: "Natural Selection will force us into conflict either way. Only under Rise will that conflict be ordered, and with room for a future. The alternative is a catastrophic, global revolt of Inhumans."



Warnings

:


Number of posts

: 1254


Location

: The wrong side of history


Job

: Professional Asshole


Humor

: Hurting feelings and killing parents since 2014


Registration date

: 2014-09-11



Character Name:
Euna Paw
Emote/Emotion:
I... Get back to me. Okay. First one, Dubs one, could deft be some happy. Second one could be anything. Happy. Staring. Idk. Give it a look and decide for yourself. Honestly. Could just be it's own thing.
Character Image:
https://cdn.discordapp.com/attachments/233852852135657472/576208692551352340/Euna_1.png
Or
Spoiler:
https://cdn.discordapp.com/attachments/235488405285240833/515442764922486784/IMG_7172-23-11-18-11-21.PNG
or
Spoiler:
Give me a reason:
Look, you just decided to give me a thing to do. That was give you art of thing I like to forever be on Shrpg. And if this works, I will be using it. A lot. With Love.
____________________________________________________________________________________________________________
The characters that my mind decided up because of various reasons easily gotten to for all of you people who like being lazy.
Characters of the wolf:

Shadowoof

Forum Moderator





Status

:


Quote

: You know........... This is just kinda pointless



Warnings

:


Number of posts

: 1475


Location

: Right behind you


Age

: 21


Job

: I write and occasionaly mod


Humor

: Gotta change this every few months


Registration date

: 2014-10-18



Character Name:
Kaiju
Emote/Emotion:
Angry/Rage, Confused
Character Image: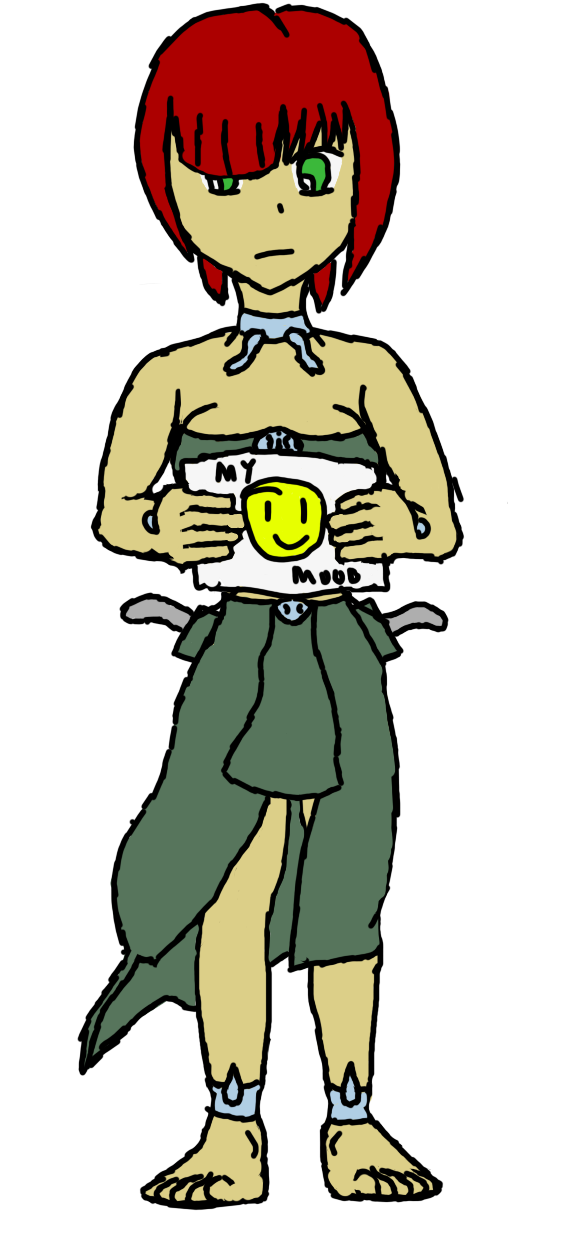 Give me a reason:
Kaiju has a habit of raging which can be the trigger for activating some of her more powerful forms.
Kaiju did not learn about verbal communication until she was older and is from another world. As such she is often confused about what other people say. This is especially true for more complex or abstract words and phrases.
My character embodies these two emotes exceptionally well and is also adorable.
____________________________________________________________________________________________________________
Poring Flan
Glitch
Kari
(
EXP
)

Row

Posting Apprentice





Status

:


Warnings

:


Number of posts

: 296


Registration date

: 2017-07-29



being a emote could be fun
Character Name:jeanie roseEmote/Emotion:1.wacky/silly
2.hungry
3.cuteCharacter Image:https://www.deviantart.com/ccrgameman/favourites/72768823/jeannie
not sure what would work best well besides the ones with jeannie and giant doughnuts for hungry,so here's a collection of jeannie's to choose from
Give me a reason:1. umm you've meet jeannie right she's in the dictionary under silly
2.besides being a goofball jeannie's know for her love of sweets and thinking anytime is a good time for snack breaks
3. well being cute is like one of her powers super cuteness so she's perfect for representing cute

Jeannie Rose

Mega Poster!





Status

:


Quote

: crazy but that's how i roll
driving everyone else insane
i'm the conductor of the crazy train



Warnings

:


Number of posts

: 2430


Location

: where ever my next adventure is :)


Job

: universe's greatest bounty hunter


Humor

: why so serious ? seriously just cause we have to face life threatening danger on a daily basis don't mean we can't have fun with it ,instead off oh no we're doomed be like me and think gee wonder how i'll survive this....oh you don't have heal powers well you might not find the evil deathtrap as amusing i do then


Registration date

: 2014-10-22



---
Permissions in this forum:
You
cannot
reply to topics in this forum