Top posting users this week
2>
Rating
Language 2: Swearing is generally permitted. However, the language cannot be used to severely abuse.
Sexual Content 2: Sexual content is permitted. References and writing about genitalia and sex acts are permitted, but explicit detail is not. Fade to black, or use the dotdotdot rule. (Let's keep it PG-13.)
Violence 2: Graphic violence is permitted. Explicit description or in-game narration violence is allowed.

Despite these ratings, keep in mind that there is a limit, and you should not cross it just to garner attention. Also, resorting to curse words is also like adding senseless fluff to your posts.
License
Some rights reserved. This forum, and all of it's content, is licensed under a Creative Commons Attribution-NonCommercial-NoDerivs 3.0 Unported License
Disclaimer
Superhero RPG does not own any content written or distributed by Marvel or DC Comics. All of the content referencing to Marvel or DC belongs to its rightful owners. Superhero RPG does not claim rights to any materials used such as Comic Book, Movie, or Video game character images.
Superhero RPG does retain the rights to any and all posts made by the original authors that are a part of SuperheroRPG.

Copyright © 2008-2019 by Chellizard, Spirit Corgi, and Pain. All rights reserved. No part of this website may be reproduced or transmitted in any form without the written permission of the author or the Site Owners.
Donate to SHRP!
Superhero RPG will be able to keep our custom domain, copyrights to your works, and an ever growing appearance that will change over time! 100% of your donations will go to Superhero RPG and nothing else.
Name: none
Superhero/Villain Name: Xyron
Age: Unknown
Race: Angel
Gender: Male
Looks: About 6 ft tall, and 153 lbs. He has white and silver-streaked hair that cascades to either side of his face, stopping just below his ears. He wears all white, including a loose cloth covering from his nose to his neck to hide his child-like face. His eyes are entirely black, giving him an alien appearance. As such, he wears circular goggles to hide them when around normal humans. Otherwise the goggles ride on his forehead, parting his hair to either side. He has two large white wings that sprout from his back at all times. He usually tries to hide them under his robes when not in use.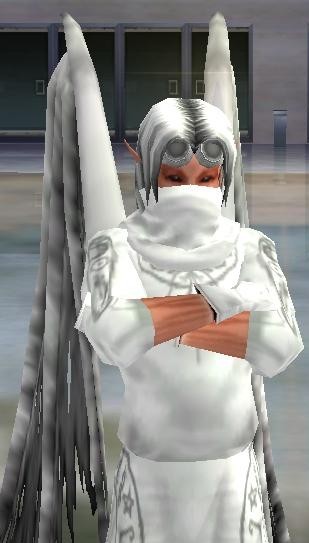 Template: Soft-spoken and quiet, he rarely speaks out against anything. He prefers to instead gather his own opinions and keep them to himself. He never lies, but can stretch the truth until it breaks.
Powers:
Flight
Ability to Heal Others(Near ressurection, able to regenerate limbs)
Fast Healing Factor
Barriers (able to extend or generate around others for protection, able to be used offensively)
Weaknesses:
Empathy (feels the pain of other sentient beings nearby, to an extent. Time has dulled his empathic sense.)
Origin of powers: Created with them.
History: Created at the start of time, Xyron was an elite class of angel. He was allowed to wander the Earth, creating miracles and saving people. But one day he saw a young girl fall, hitting her head with a horrendous impact. As Xyron approached, unseen, to save the girl, he witness the angel of Death decending. Xyron knew that if Death was present, then the woman was doomed. Xyron refused to allow it, however, and intervened. As Azrael, the Angel of Death, started to ferry her soul away, Xyron funneled all the energy at his disposal into the stream, interrupting his work. The girl's soul returned to her body and, as far as Xyron knows, she lived. God was angry at Xyron's betrayal, and cursed him to wander the earth as a mortal. He would never age, but he would forever feel the pain of others. He was, however, allowed to retain his powers of regeneration, enabling him to heal or even prevent the wounds of others.
Example of RP: Xyron opened his eyes in confusion. What was going on? What was this... feeling? He had never felt before. A brief gust of wind blew by, causing him to shiver in his nakedness. Looking around, he could see nothing but desert. A nagging feeling in the back of his mind caused him to start walking east. Someone was in pain. He had to help! Instinct drove him onward, until a small city appeared before him. He walked into the nearly-deserted town, paying no heed to the buildings he passed. The only one that caught his eye was a clothing store on the corner. Entering quickly, the fallen angel picked out some clothes that fit loosely over his gaunt frame and wings. A young girl working there approached quietly, not paying full attention.
"Can I help you sir? We have a fine selection for..." About halfway through her sales pitch, the young employee noticed the large white wings pressed against the angel's back. She didnt even realize that he was naked, as her eyes never left the feathered apendages. Xyron put on the clothes, covering the wings with a loose white t-shirt. This broke her trance and she realized that he was getting dressed outside of the dressing room. She was just about to comment when the angel turned to leave. "Wait! Stop! You havent paid for those yet!" Xyron stopped, turning to her in confusion. His entirely black eyes and youthful appearance transfixed her yet again.
"Payment? I am afraid I have nothing to give, Alicia. Is there any way I could handle this later?" The awestruck girl nodded, never moving. "Thank you. I will return once I can offer you enough money to cover this purchase. In the meantime, you need to return home. Your mother is about to give birth to your new sister. She will need your help." Xyron turned and exited the store, contunuing on his path. The girl sat down in amazement, wondering to herself how he even knew her name, let alone that her mother was pregnant.
Xyron, however, kept walking. He could feel that two people were in severe pain a few miles ahead. It was a car accident, and both parties were hurt badly. But not for long, not if Xyron was on his way...
PG edited for C5. Up for reapproval.
Looks good to me.

My first approval ever.

Guest

Guest





---
Permissions in this forum:
You
cannot
reply to topics in this forum