Top posting users this week
2>
Rating
Language 2: Swearing is generally permitted. However, the language cannot be used to severely abuse.
Sexual Content 2: Sexual content is permitted. References and writing about genitalia and sex acts are permitted, but explicit detail is not. Fade to black, or use the dotdotdot rule. (Let's keep it PG-13.)
Violence 2: Graphic violence is permitted. Explicit description or in-game narration violence is allowed.

Despite these ratings, keep in mind that there is a limit, and you should not cross it just to garner attention. Also, resorting to curse words is also like adding senseless fluff to your posts.
License
Some rights reserved. This forum, and all of it's content, is licensed under a Creative Commons Attribution-NonCommercial-NoDerivs 3.0 Unported License
Disclaimer
Superhero RPG does not own any content written or distributed by Marvel or DC Comics. All of the content referencing to Marvel or DC belongs to its rightful owners. Superhero RPG does not claim rights to any materials used such as Comic Book, Movie, or Video game character images.
Superhero RPG does retain the rights to any and all posts made by the original authors that are a part of SuperheroRPG.

Copyright © 2008-2018 by Chellizard, Spirit Corgi, and Pain. All rights reserved. No part of this website may be reproduced or transmitted in any form without the written permission of the author or the Site Owners.
Donate to SHRP!
Superhero RPG will be able to keep our custom domain, copyrights to your works, and an ever growing appearance that will change over time! 100% of your donations will go to Superhero RPG and nothing else.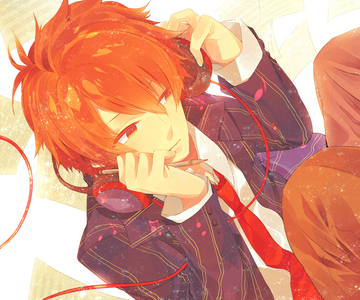 CREATION
Character's Full Real Name: Issac Phierro Lake
Alias: Technopath
Villain\Hero: It Depends on the situation
Age (Lived Years):  19
PHYSICAL SPECS
Species: Human  
Blood Father:   Benjamin Lake
Blood Mother:   Grace Lake
Physical Gender:   Male
Hair Colour(s):  White orange  
Skin Tone(s):   pale-ish
Iris Colour(s):   Blue    
Body Type:  Average build
Height:   5'9
Weight:   120
Coordination:   Great
Reflexes:  pretty good
Physical Strength: okay  
Abilities: He can control and upgrade technology with is mind      
Glasses/Contacts:  glasses
Weapons: two guns (that he can upgrade at will) and many other gadgets anywhere there is any type of technology he has a weapon  (technology includes simple systems like a pulley system or gears)
PERSONALITY
Psychiatric Problems:  None known
Phobias:   insects, clowns, and arachnids
Sociability:  in the middle
Outlook:   realistic  
Sexual Orientation:   gay
Ideal Partner(s):   Harry Styles, Dan Howell, A semi skinny Emo Dream lol
Religion:   losing it
Political Inclinations:   fuck politics
Hobbies/Interests:   theatre, cheeky bum sex
Favorite Colour:  Natural  Yellow
Favorite Season:   Fall
Favorite Animal:  Gecko  
Favorite Foods:   Chinese (cold Lo-Mien)
Favorite Word:   Melancholy
Favorite Song:  Oh So Many...
Favorite Musical Artist / Group:   same as song
Favorite Musical Genre(s):   Alternative  
Greatest Hope:   A fun life
Greatest Strength:   Intelligence
Greatest Weakness:  Physical strength
Worst Nightmare:   Clown Spider
Most Valued Posession:   his fathers pocket knife
Perfect Vacation:   A Temperate City
Can't Live Without: Music  
Theme Song(s):   I Love You(But I Hate Your Friends) - Neon Trees
HISTORY
Nationality:  American
Place of Birth:  San Francisco California  
Date of Birth:  6/12/98  
Economic Background:  lower middle class
Biography: As a boy he loved to create things, and as they began to work in his mind he began to develop a specialized power. He began being able to make things with his mind. He left his parents got his own apartment as all people do and decided to use his powers for something. He decided to steal from the rich!

AndrewDrake







Status

:


Quote

: "Insert Quote from Character Here" or etc.



Warnings

:


Number of posts

: 1


Registration date

: 2017-05-27



____________________________________________________________________________________________________________

Super Cutie







Status

:


Quote

: idk.



Warnings

:


Number of posts

: 916


Location

: yes


Age

: 26


Job

: yes


Humor

: yes


Registration date

: 2011-02-18



---
Permissions in this forum:
You
cannot
reply to topics in this forum