Top posting users this week
2>
Rating
Language 2: Swearing is generally permitted. However, the language cannot be used to severely abuse.
Sexual Content 2: Sexual content is permitted. References and writing about genitalia and sex acts are permitted, but explicit detail is not. Fade to black, or use the dotdotdot rule. (Let's keep it PG-13.)
Violence 2: Graphic violence is permitted. Explicit description or in-game narration violence is allowed.

Despite these ratings, keep in mind that there is a limit, and you should not cross it just to garner attention. Also, resorting to curse words is also like adding senseless fluff to your posts.
License
Some rights reserved. This forum, and all of it's content, is licensed under a Creative Commons Attribution-NonCommercial-NoDerivs 3.0 Unported License
Disclaimer
Superhero RPG does not own any content written or distributed by Marvel or DC Comics. All of the content referencing to Marvel or DC belongs to its rightful owners. Superhero RPG does not claim rights to any materials used such as Comic Book, Movie, or Video game character images.
Superhero RPG does retain the rights to any and all posts made by the original authors that are a part of SuperheroRPG.

Copyright © 2008-2022 by Chellizard, Spirit Corgi, and Pain. All rights reserved. No part of this website may be reproduced or transmitted in any form without the written permission of the author or the Site Owners.
Page 5 of 5 •
1, 2, 3, 4, 5
Bolt had kicked the speedster over, this time a loud roar of pain could be heard, more of the strange bio paste seeping from him as he began to press into his side, the slopping liquid bleeding through the cracks of his armor. The colored liquid ran through the creases in his fingers, causing the speedster to growl a little as they fought back a bit, trying to prop themselves up. Bolt's kick has done a real number, pieces of metal had flown about at the highest speeds and soon enough, the speedster was displaying difficulties "breathing".

"D-did I touch a nerve, Bolt?" The man asked, a little chuckle escaping his pained groans, on his knee, one foot up, as if he were about to run, but still not moving. A small click was heard as his knee buckled and he laughed, gasping for air. "You still look so young...It's almost like you're.... a different person. So tell me, who shouldn't I threaten? A son? A daughter? A wife? A mother..." the Speedster laughed a little, shaking it's head and clearing it's throat with a little chuckle, the armor's kinetic bracers at maximum capacity.

"Kris, this job is more than just phoning the cops and watching some cameras." Proxy said as he cleared his throat. Cypher was shocked that he even called her by name, looking to him almost startled, knowing full well that she wasn't even able to recall his name at the moment. She looked to him, concerned that she was being judged, but the truth of the matter was he seemed perfectly fine with her, he seemed...patient almost. She smiled as his eyebrow furrowed, pointing to the control button. "He's being taunted. He's being goaded into thinking that those deaths. All of them, are his fault. His family is being threatened. He's being pushed to the edge, to the brink of his own line. This person is gonna try and break him, try to make him mad and get the better of him, or worse could turn him into a killer." Cypher heard the words and they resonated, echoed.

Of course she could see it now, hear it now. She could see Bolt slowly feeling the hatred, making crucial blows. She felt horrible, but looked to the button and the microphone. She was at a loss for words, curious as to what sort of words she could say to inspire her friend, to keep him on the side of sanity. She wasn't used to these superhero antics, and the superhero movies made it seem like this was a moment to say something theatrical, dramatic, to play it up because these words could change the world. "Wh-What do I say?" She asked him, trembling in fear that she would fail.

"You tell him what he needs to hear. What's in your heart, and more importantly....what's in his." He said as he looked to the microphone, recalling any advice he gives Bolt, ever. He looked to Kris, smiling at her and motioning towards the microphone.


Zodiac

Mega Poster!





Number of posts

: 643


Registration date

: 2013-08-18



Alex felt the sickening crack that resulted from his kick, knocking the speedster over and inflicting even more harm upon them. He lay there so fragile looking, seeping this odd colored liquid and likely only a few strikes away from being finished. Instead of doing what any sane person would have done, they continued to taunt him. Almost as if begging for him to keep going, until they couldn't say another word. "What you should do is shut up." Another kick, this time aimed at the legs, something to keep him from running away should the possibility come through their mind. For the moment communications were ignored, when his eyes were zeroed in upon Zodiac.

"You won't be threatening anyone anymore." Another kick, not as hard but meant to throw the speedster onto his back. If the term seeing red ever sit a situation, it was this one. Nothing else existed around him, save for the speedster that he was coming close to putting a permanent shut down on. Electricity beginning to crackle within his left hand, releasing powerful stray sparks from it. If nothing was done, he would likely make a mistake he would not regret not but later.

The Bolt

Mega Poster!





Status

:


Quote

: "Insert Quote from Character Here" or etc.



Warnings

:


Number of posts

: 1262


Age

: 26


Humor

: [19:51:49] Samify : Sean gave and I recieved many things


Registration date

: 2011-04-26



The leg was the next thing to go, as Bolt let out a tremendous kick. His anger had seeped through once more, the delivered kick was enough to break off even more metal pieces and cause the mechanism in the leg to lock. Another kick was delivered, kicking the speedster into the air and landing on it's back, the hood strange mask fixated on Bolt as it seemed to laugh a little. He vowed that the speedster wouldn't be threatening anyone anymore. Of course he began to accumulate lightning into his left hand, the speedster remained still for a moment before something came across the line.... but it wasn't what Bolt was expecting.

"Alex! That's enough!" A voice cut through, matching his level of intensity, if nothing else to grab his attention. "Is this what you want your legacy to be? Blood, mayhem and murder? For all of the people you've saved, for all the people you've fought for...you want to throw that all away?" Kris froze for a moment as Proxy leaned in and took the mic, pressing the button. He spoke to bolt, his words tried to cut through the anger. There was a brief moment where Proxy took a breath in.

"Listen to me. I know how it feels, to have these thoughts. To feel powerless, to feel like nothing you do makes a difference. But you have to believe me Alex, you do make a difference. You make a difference every day for someone, from saving people from metahumans to putting people behind bars. You keep them safe Alex. You give them hope. Don't throw that away. In the next 5 seconds you need to decide will "The Bolt" strike fear into peoples hearts? Or will it illuminate the darkness?" He let Bolt have whatever he would have, but regardless, there was another mouth that would weigh into things.

"You okay there?" The boy asked as he walked over and gave a powerful strike with his baton across the speedster's mask, then tapping the tip of it into the glowing green paste. "AP baton speedy. You won't be running anywhere anytime soon." He said as he looked to ALex with a huge grin, then a slight look of concern from behind the domino mask.

____________________________________________________________________________________________________________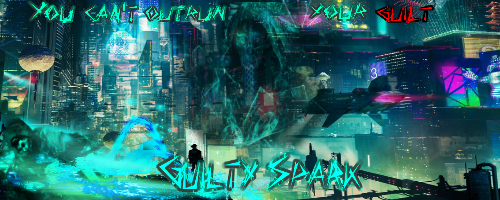 Zodiac

Mega Poster!





Status

:


Quote

: "Killing never takes a villain out of this world...It just replaces them."



Warnings

:


Number of posts

: 643


Age

: 26


Job

: Your salvation through destruction.


Humor

: [19:13:20] @ Forceaus : The racking of sperring skirrs means you rack disciprine


Registration date

: 2013-08-18



With a leg buckling under them, he could tell the speedster would be making not expeditious retreats anytime soon. They were open ,ready to be struck down should he be so inclined, and all he had to do was release the electricity gathering within his hand. Just a second between life and death, though a voice struck through the brief haze of anger. A momentary lapse within his electricity, crackling a little but keeping form as his mind itself turned to the words being spoken. Mentions of a legacy, beyond what was happening in this moment. The speedster he was looking down on, eyes glowing with the energy crackling through his entire body.

It would have been easy to strike them down but was easy always the right thing to do? Teeth ground together in bottled up frustration, sliding over one another painfully. Proxy was right, and that was what he hated really. It would have been so easy, yet he couldn't do it. It would have made him no better than the one kneeling down before him, dripping odd green fluid. Seeming more like blood when he put a thought into things."Dammit...you're right." That was when Khaos added to the conversation, likely not even knowing he was doing that.

Electricity faded away, leaving him as he was before gathering the energy. "I'm fine." Even if people he could have saved were dead. "So like I said. You, going away for a long time."He would glare at Zodiac, wanting to get some kind of pleasure from this. Even if it was the monstrous speedster being hauled away.

The Bolt

Mega Poster!





Status

:


Quote

: "Insert Quote from Character Here" or etc.



Warnings

:


Number of posts

: 1262


Age

: 26


Humor

: [19:51:49] Samify : Sean gave and I recieved many things


Registration date

: 2011-04-26



Bolt had calmed for a moment, Matthew took a breath in and sighed with relief as he watched the screen, noting the new heroic vigilante that had come to help. It wasn't long before the police had arrived, they placed all manner of locks and metahuan dampening cuffs that were designed for speedsters. Khaos made a point to slip away once a certain detective had arrived to take care of things from a mobile taskforce. Despite having slipped away, Khaos had every intention of flagging down Bolt before he left.

"So, The Bolt. Heard a lot about you. Gotta say. You're doing the legends justice." Khaos said with a smile as he clapped his hands together, wondering if Bolt was going to try and bring him to justice as well. It's true, Khaos was a non-lethal vigilante type, but it was...still technically against the law to assault a man. He didn't want to believe that Bolt possessed that level of a seperiority complex, but one could never be to sure in the world around them. "You uh...You tango with that guy often?"

He'd let bolt have a moment to process and think things through, but he had to admit. He was sort of looking forward to hearing what Bolt had to say.


Humanity

Mega Poster!





Status

:


Quote

: "If you can call me a hero...the next shot's on you."



Warnings

:


Number of posts

: 703


Age

: 26


Job

: The Villain


Humor

: I used to be the dragon king, but then I took a can of plot bullshit to the knee. I'm just waiting for my powers to "miraculously" come back now.


Registration date

: 2014-01-19



His first speedster take down and Alex could not help feeling that went a little easier than it should have. Maybe he just assumed his first battle with a speedster would have been a long draw out affair, with a clash of two people moving faster than a human eye could keep track of. Maybe he had just watched one too many anime, with people moving around with their animation blurs to show speed and save the budget from being mutilated. As the police came to clean up the criminals, he would move himself out of the way with Khaos seeming to wave him down. Naturally Bolt would heed that motion, hearing the male out. "There are legends? Huh, didn't know I was getting that popular." if there was nothing else Alex was good at, it was letting humor infuse things.

As for tangoing with that guy often, well that was something else. "Never actually dealt with them before today." Truth, though he felt that went pretty well for a first time dealing with someone. Maybe he was just getting faster and wasn't even noticing it. "Hoping I don't make it a recurring thing." He added, and meaning that statement. Not like he would want to fight the same person over and over again like in the shows. Giving a small wave to the vigilante, he would likely  disappear from his sight with a blur.

Minutes passed before he slipped into the HQ once again, now more curious about what had caused Proxy to return.

The Bolt

Mega Poster!





Status

:


Quote

: "Insert Quote from Character Here" or etc.



Warnings

:


Number of posts

: 1262


Age

: 26


Humor

: [19:51:49] Samify : Sean gave and I recieved many things


Registration date

: 2011-04-26



Page 5 of 5 •
1, 2, 3, 4, 5
Similar topics
---
Permissions in this forum:
You
cannot
reply to topics in this forum